Quote:
Originally Posted by
Ziggythewiz
In that case you just need to hack it to allow EV up to 55, or whatever your highest non-highway limit is.
With the old prius you had to hack it just to add the EV mode button, along with the higher performance.
The 'C' stands for
C
ity.. That's where the C does it's best work.
If you look at your average speed around a congested city, it's not that fast.
My wife's 'C' can easily stay in EV up to 44 MPH (slightly downhill).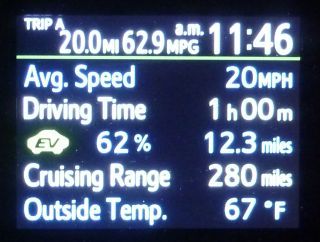 I can go get a pizza over in Lexington (it's close by) and get 70 MPG roundtrip.
My idea of a simple upgrade would be an 8A 144vdc nimh charger built in.
Topping off a half-drained pack might help the MPG.?.
We always park the 'C' in the garage between trips during the day.
If it was charging during those breaks between (mostly very short) trips,
it seems like our MPG would be improved..
Since a high percentage of those trips are in EV mode..