Quote:
Originally Posted by
ruckus
Ok, bear with me for a second..
Does anybody remember a guy a few years back with a voltage selector that looked like a wwII ship speed selector (all ahead 3/4)?
His setup was called something like 'cheap ev drive' or something.
He drag raced his boat of a car and actually did pretty good using an old 13" series dc or something.
Anyway, if anybody remembers, he had some sort of trick (made with wood from the garage) 'power selector'.
Anyone remember? I'll try to dig up some old pics...
Edit: now I remember it was 'poormansev.com' or something similar. Here is his 'controller'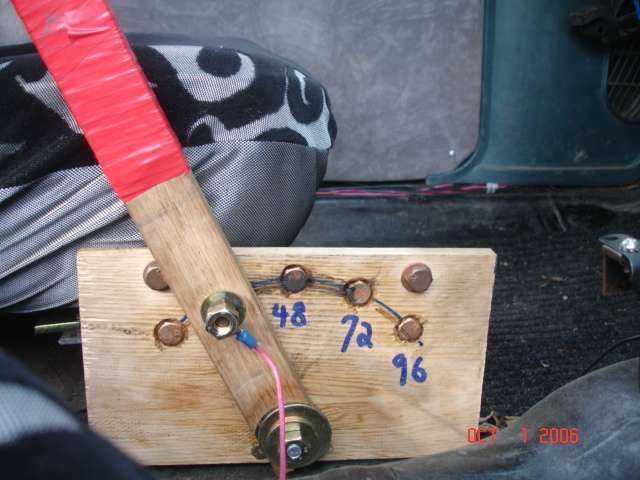 You gotta respect that kind of ingenuity...
I can hear Tesseract saying "damn, if only I had thought of that..."
Problem with that? Wouldn't it drain the batteries unequally, so you'd have have progressively less capacity as the voltage went up?
In other words, you'd be limited by the capacity available from stage 1?
How about a Poor Man's PWM -
A small motor spins a drum with many narrow contacts all going to the batteries.
You have multiple brushes you can engage with a lever, staged so they increase the % of ON time.
Say the drum has 12 contacts. When one brush contacts, it would be 1/12 power, when 2 brushes are down, it would be 1/6, 3 brushes down, 1/4, ... 12 brushes down is full 100% duty.
Hmmm... Too complicated. Like a venier scale on a pair of calipers, the number of brushes is less that the number of contacts. As you rotate the brush collar it goes from no contact, to brief contact, to constant contact in a small rotation of the collar? No, that's not right, but it's close. You can do mechanical PWM.
Put some capacitors on it to smooth it out, and you'd have a ghetto PWM speed control. Mechanical. Current limit would depend on the contacts and brushes.