Hi everybody, this is my first post. I just bought a Chinese electric car called the Flybo. You might have heard of it. It looks just like the smart car.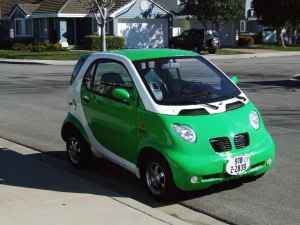 It feels a lot like a go kart when driving it. It's super small and funny to look at (and FUN to drive!). Only draw back tho is that's it's real whimpy, and sluggish up hills. Just yesterday it died on me. I noticed the circuit breaker popped, and now won't go back to the "on" position. The top is a little melted, and the wired coming out the top to the controller does not look good.
Can anyone give me some advice. Everything's in chinese. I want to fix and make the car faster/strongerfor uphill climbs. (that's what it blew on, a long uphill climb.)
Please tell me there's someone on this board with experience and knowledge! This little car is great. Everyone laughs. It's a lot of fun.
If you want to help me, my email is
davepino@gmail.com
I think all I need is a new 100amp breaker and a new cable to get the car going again (but I dunno?).
And as far and strength, what would I need besides a new motor and controller? It's direct drive to the rear axle. It has 4 batteries (72 volts total?)
HELP!
Dave