I did a quick scaled sketch to see how things lay and what the weight distrubution would be.
A number of assumptions had to be made about the front wheel size at 400mm (16") and I left out the other unknown components weight as those can be factored in to retain balance and overall weight later on.
I used a wheel base of 2m (6'7"), a maximum length of 2.9m (9'6"), max width of 1.2m (47") and a height of 1.1m (43"). These constraints are mainly to do with workshop space and trailer space but it may be prudent to increase the length a bit more to get a lower height and better lines.
With a real sized person in and the seat and motor not on the floor the trike profile is a lot higher then the lovely sleek design that Todd came up with.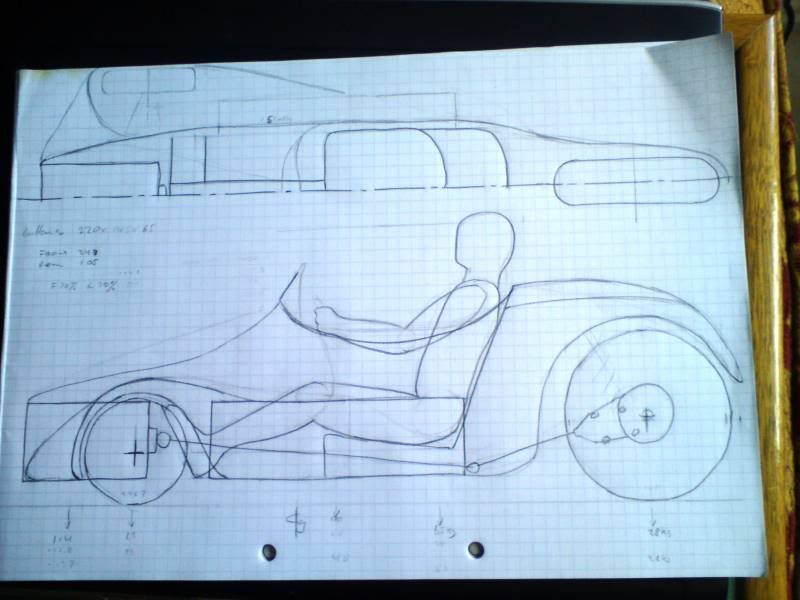 However, it will surfice for now.
Using the known weights and positions of the rear wheel, 12" motor, myself and 30 100ah cells and a guestimate of about 25kg for front wheels I get a 70/30 F/R weight split. That isn't too far off with the battery pack in two lots of 15 on each side of the cockpit and can change a reasonable amount withthe addition of the rest of the structural and essentail components.
I have removed the transfer box for now as the input is too high and would require me to have a hole in my lower abdomen to let the prop shaft through. It would make getting out a little fiddly if I have to remove the prop first!
As it is I have the ground clearence at 4" which is a little low but it is meant to be a tiny vehicle.
I figured a good way to watch the weight is to buy three cheap bathroom scales and put one under each wheel as the build develops. Knowing my own weight distribution and that of the pack will allow me to determine the correct wheel weights as I go.
I am not as impressed with the front view as it looks too small and low with the little wheels and tall seating so that may have to change. I may not be vain about myself but my creations matter.
It is starting to look a bit like a Messerschmitt.
Cute but I want more of a...
look about it with a little...
and maybe some...
with a little...
I also found this which is quite cute.
Weigth distribution would work if that was a reverse trike though. But nice lines.