Hi,
My name is John, I have been stalking the forum for a while and with the newest project I have decided to join up.
I am in the beginning stages of building a Tesla swapped customized 1951 Hudson Hornet.
This the car
This is the sketches I made laying out the mods.
This is the spaceX rocket to replace the 50's style cigar fender rocket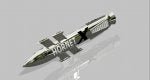 I have a lot of restoration and custom work to do including the design and construction of a frame.
I was hoping that you guys might be able to help here pointing me in the direction of someone that might have a flood damaged large rear drive unit that I will need for mocking up the rear of the car along with 30" tall drag radials.
Thanks everyone,
John.