Discussion Starter
·
#1
·
Well, the project is not done (will it ever be?) but I feel like I have moved into a new phase. I drove up to the shop today to work on other things, and so I got some good statistics using the datalogging function on the X144 controller. I was a bit confused by the software at first, but I have to say I am liking all the functionality even with many of the parameters locked out by the distributor. There are some parameters on the motor tab, for instance, that I simply do not understand. Not being able to change them is probably for the best.
I have been trying to get my head around the battery voltage, and how it responds to load. My BMS system communicates with the charger, so the charger cannot cause a problem. When driving, if I exceed the BMS settings for High Cell Cutoff or Low Cell Cutoff, it will sound an alarm; but that is all.
So to protect the cells while driving, I need to set up this map in the X144 software: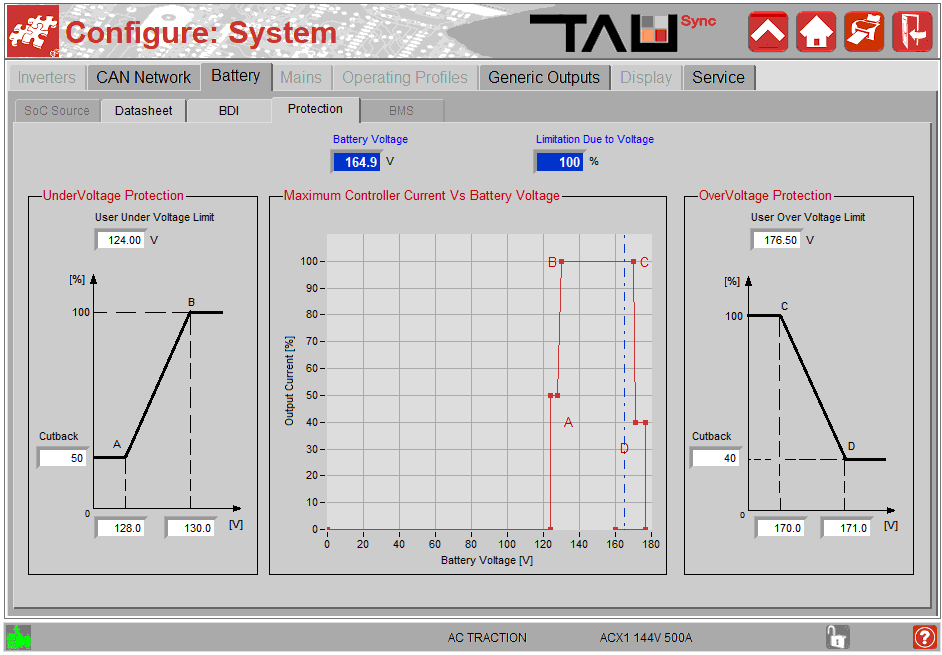 The Over and Under voltage limits are the values that the controller is to never exceed. I have them set for a multiple of 4.20 and 2.95v/cell respectively. My system is 42s, and all my cells are within 0.008v, so that should never drive a cell outside of the max values. I am cutting off my charge when the cells get to 4.10v, and then they immediately droop back a bit - so even rolling down a big hill right after a full charge should not be a problem.
Points B and C are the values where the controller starts derating. If driving it will enter a limp mode, and if charging with regen, I guess it will just taper off the current. I have not driven it when the cells are low, so I have not really tested any of it yet.
The software lets you select any of the parameters it measures, and store them in a datalog with up to 200ms sampling speed. I plugged in my laptop, told it to record Current, Voltage, RPMs, and Motor and Controller temperature every second. It was about a 10 minute drive, so it made a nice big spreadsheet. Open Office was not happy about trying to make a graph out of all of it. It is interesting data, and does basically what you would expect. I found with big bursts of power (200-300A) I would see about 15 volts of sag.
I decided to take the average of the current and the voltage, and multiply them together, to give me the average power. That should more or less check out, right? I knew my travel time, and my distance, so I came up with some consumption numbers. On the way up to the shop I used an average of 12.2kW, for a total of 2.2kWh and 486 wh/mile. Wow, thats terrible I thought! But, it is uphill the whole way, and gains about 600 feet of elevation. So on the way back? It dropped to 5.8kW, only 1.1kWh, and 244Wh/mile. If I average them, I get 365wh/m which seems ... about right. I am not really sure how much my truck weighs, at some point I will have to venture down the to dump with a load of recycling or something just to use their scale. The battery pack in the Merc b250e was supposed to be about 28kwh, so I should be looking at about 75 miles of range if any of these wild conjectures are accurate.
Anyhow, it feels like a start. I have maybe not built the best DIY electric car ever, but I did build one! It even went 55mph before I chickened out and eased off the throttle. Seriously, with all the carpet and trim gone, and the ancient cheap Chevy-grade plastic rattling around inside, it sounds kinda scary