Discussion Starter
•
#1
•
Hey everyone on the Diyelectriccar forum!
We are team EMUS (Electric Motorcycle of Universite de Sherbrooke), a team of mechanical, electrical and computer engineering students from Sherbrooke, Quebec in Canada!
We are currently launching a Kickstarter crowdfunding campaign to complete the purchase of our battery pack. Needless to say that the battery is one of the key elements of any electric vehicle and
by far the most costly. Any help will be much appreciated!
Kickstarter:
https://www.kickstarter.com/projects/teamemus/emus-electric-motorcycle-universite-de-sherbrooke
Website:
www.emus.ca
Facebook:
www.facebook.com/Projetemus
As the title suggests, this article will be an overview of the build process of our all-electric motorbike to compete at the eMotoRacing Varsity Challenge this summer (July 11-12, 2015). To start this post on a good note, here are some mouth-watering pics of the bike as it sits right now!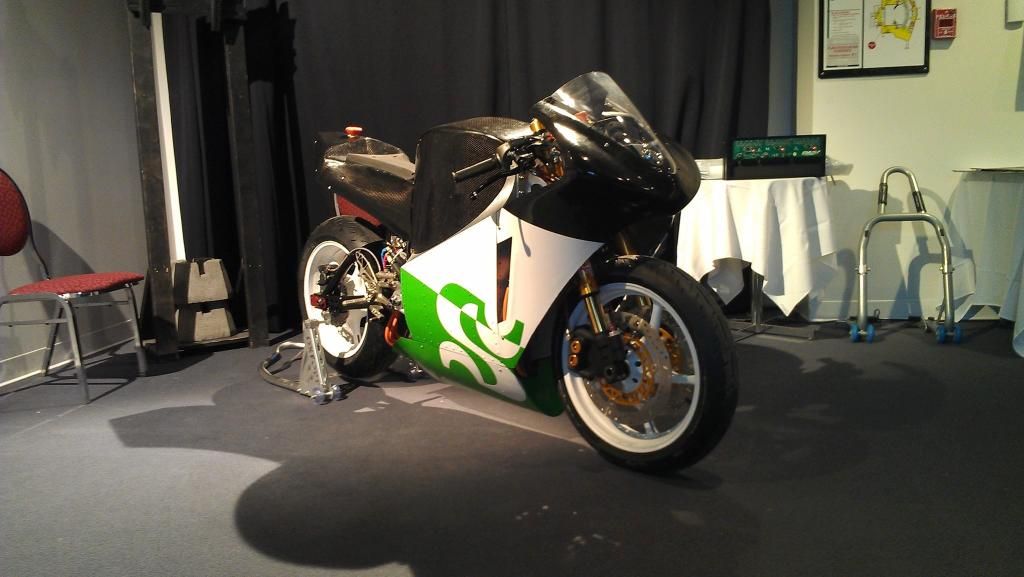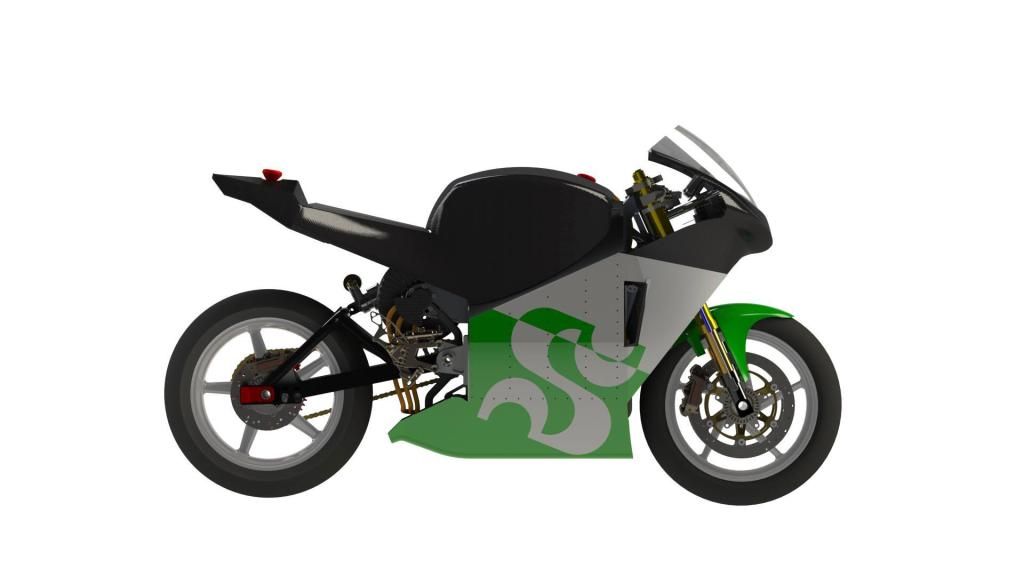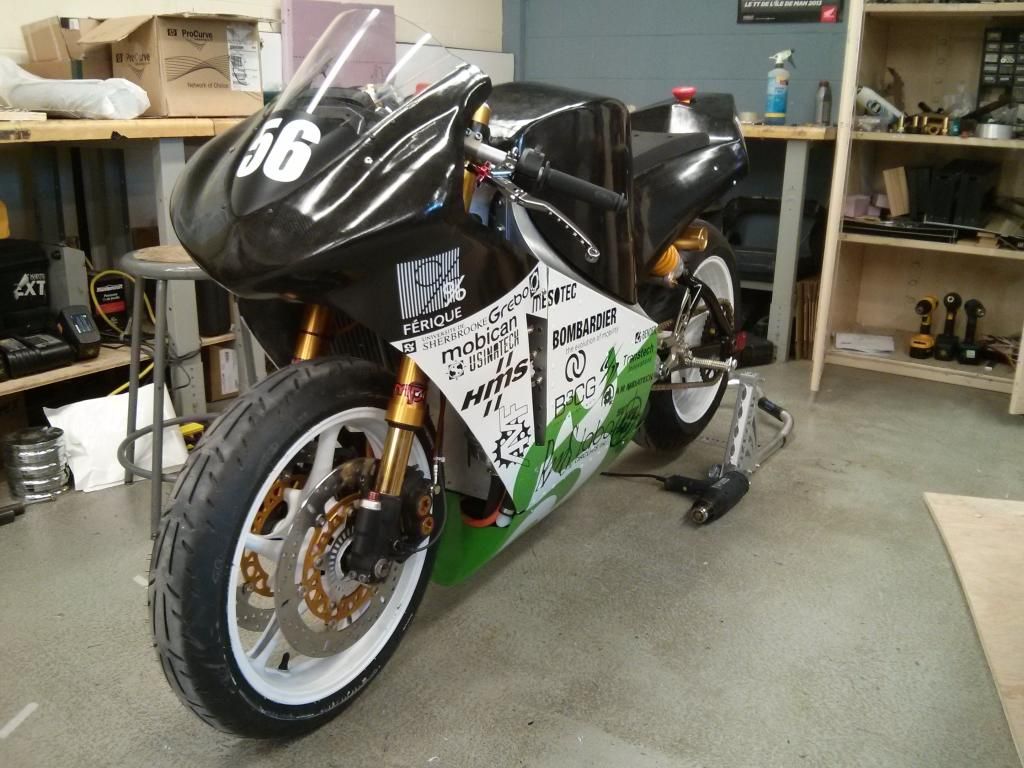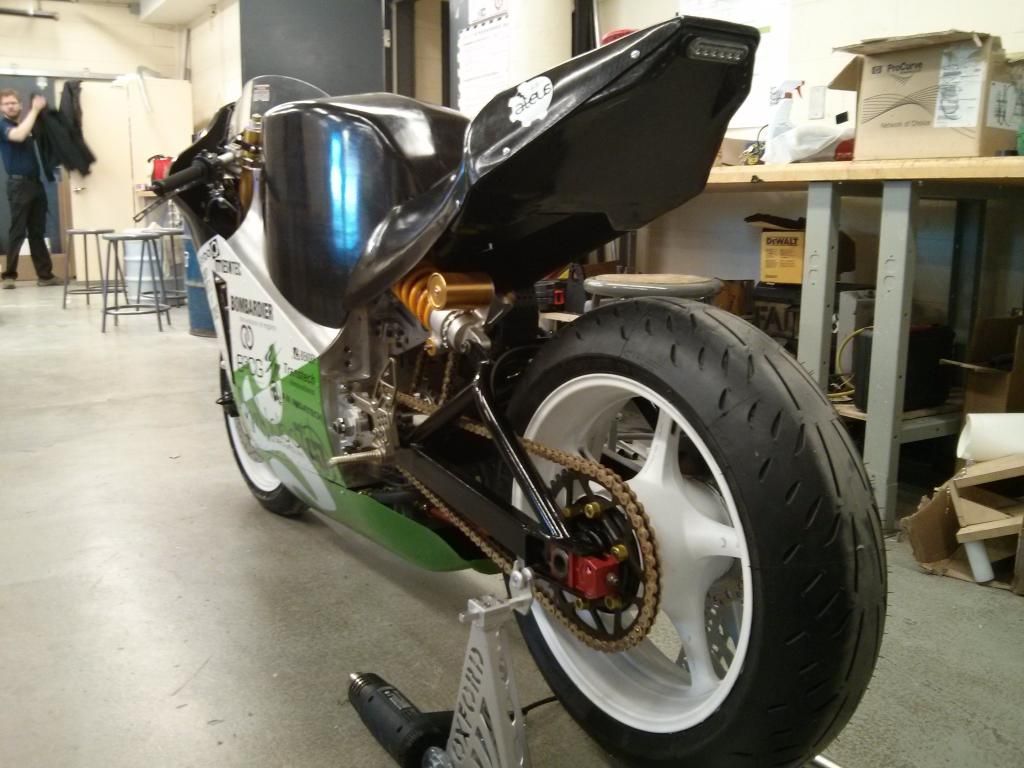 Before getting into technical details, here are the major rules we had to consider while designing the prototype:
- Zero emission vehicle (indeed)
- Battery pack voltage below 680 volts
- Max. 35" overall width and 100" overall length
- Max. weight of 220 Kg.
- High voltage wiring adequately insulated and crash resistant
For a more exhaustive listing, see the competition's rules page here:
http://emotoracing.com/rules
The bike was first intended to race at FIM eRoadRacing, but it hasn't announced any event for 2015 yet. However, eMotoRacing Varsity challenge is perfect fit for our team.
Since we wanted to have a significant chance to win the eMotoRacing Varsity challenge, we decided to start from scratch as most successful electric vehicle manufacturers did (Tesla, Brammo, BMW, etc). It goes without saying that this approach gives us many advantages in comparison to simply converting an existing vehicle. It allows us to:
- Design a bigger battery compartment
- Position the motor and powertrain as we need
- Use the lightest materials available for chassis and body panels
- Use the structural strength of the battery pack as part of the chassis
- Have more control on the fitment of every part
- Achieve a good weight balancing of the bike
On the downside, this is a far more expensive way of designing an electric vehicle and also more mechanically complex. To facilitate the design and to provide the driver a familiar driving experience, we used about the same dimensions as a 600cc racing bike. After many iterations on both electrical and mechanical systems, the project is now almost in its final form, but still far from ready for the eMotoRacing Varsity Challenge! The following section will briefly cover different technical aspects of our prototype. Don't hesitate to ask any questions, we will try our best to answer!
General specs:
- Continuous power: 90 KW / 120 HP
- Continuous torque: 190 Nm / 140 ft-lb
- Peak power: 160 KW / 214 HP
- Peak torque: 450 Nm / 330 ft-lb
- Batteries: Li-Po, 12 KW/h
- Wheelbase: 1420 mm
- Weight: 220 Kg / 485 lbs
Chassis
As mentioned earlier, designing the vehicle from a blank sheet of paper allowed us to take advantage of the battery by using it as the central part of the chassis. The Lipo pack is housed inside a full aluminum monocoque chassis.
The swing arm, front fork, motor and basically every major component connects directly to the chassis. Using a monocoque chassis provides the vehicle better stiffness, protects the batteries and allows the use of a large rectangular battery pack. However, accessing or removing the batteries can be arduous.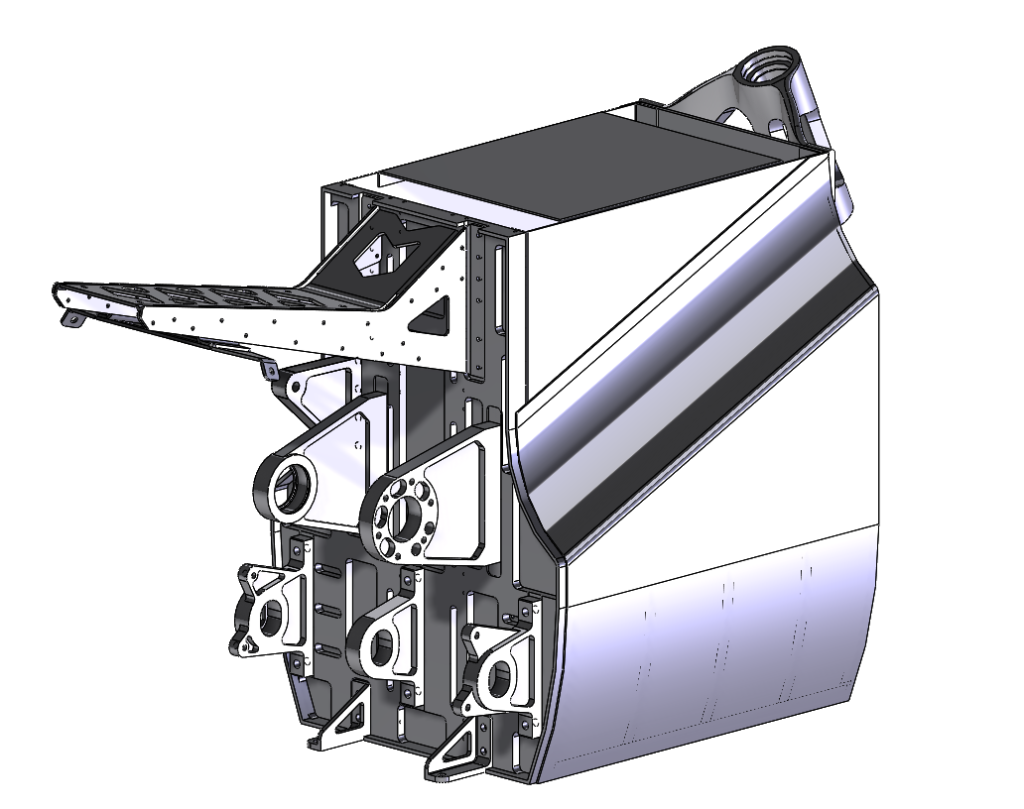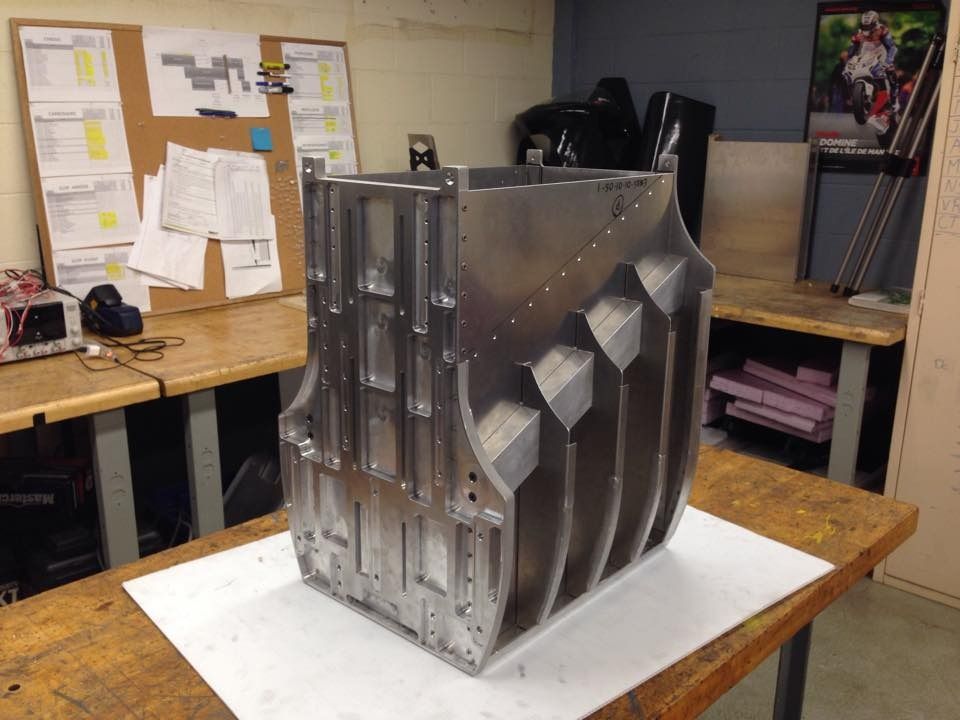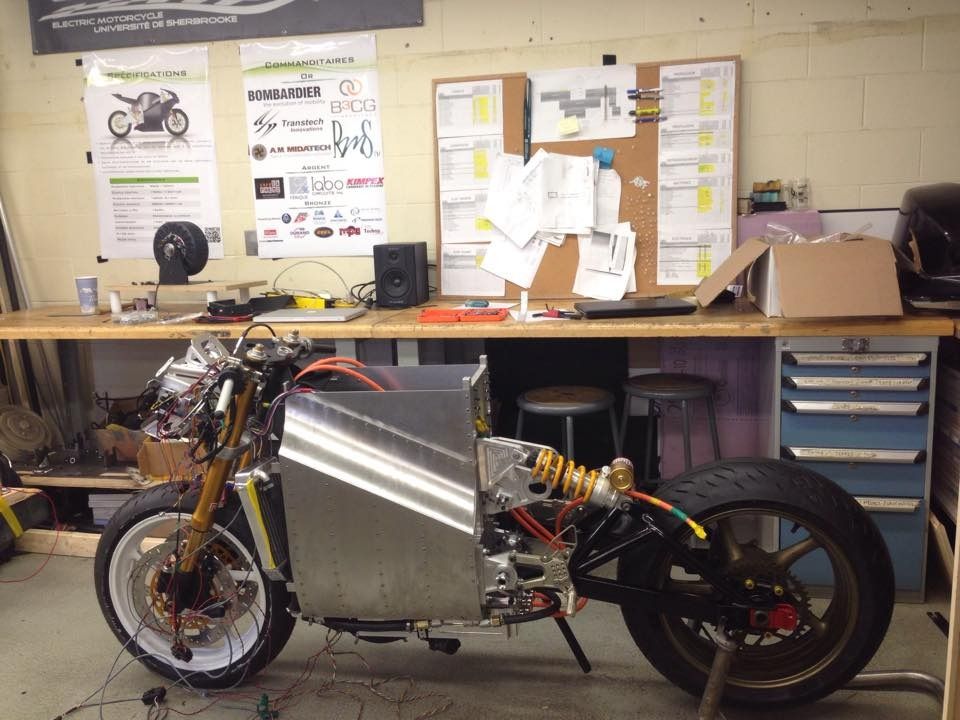 Brakes
As most sport bikes, our motorcycle uses double hydraulic disc brakes on the front wheel and single disc on the rear wheel. Regenerative braking is also possible with our motor-controller combo.
The amount and smoothness of regen braking can be programmed and adjusted via the clutch lever to suit the needs of the driver.
Battery pack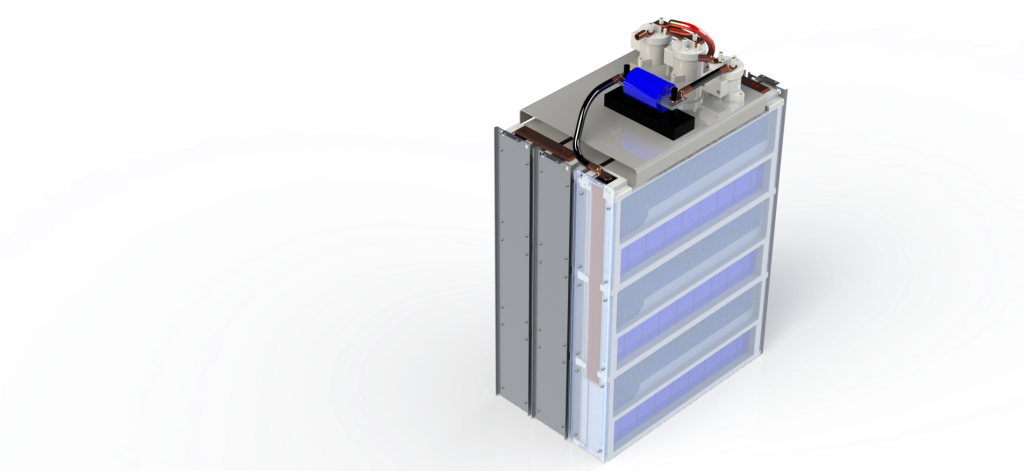 The 12KWh 600 volts battery can put out 1000 amps peak current and is designed for a 45 kilometers racing range. The pack consists of three 600 volts main modules mounted side-by-side inside the
chassis, slightly spaced apart with air ducts integrated in the aluminum panels to provide natural air cooling to the battery.
These modules contain three 200v smaller modules connected in series, with their own BMS. A main BMS board processes the raw data sent by the 9 individual BMS then sends necessary information to
the ECU. Each 200 volts module is made of Turnigy A-SPEC RC Lipo battery packs. This type of batteries offers great power density (7.5 KW/Kg), strong charge and discharge current (65C discharge, 8C charge) and convenient packaging.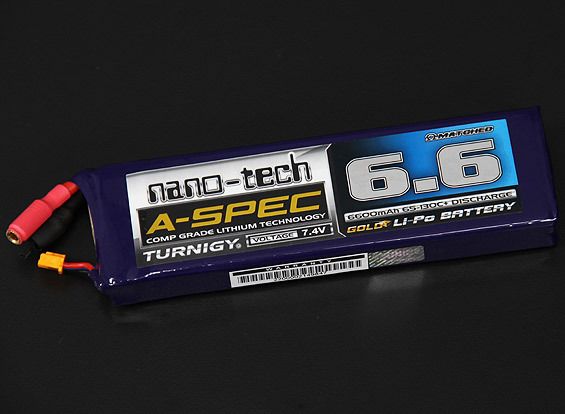 These cells were chosen amongst hundreds to fit our specific needs. The form factor, the weight, the specific energy, specific power and voltage were the main parameters we looked at. The fact that it also come prepackaged with bullet connectors was a great advantage regarding the assembly process and packaging.
However these cells come at a very high price of about 60$ per unit. Considering the battery pack houses 243 of these, it brings the price of the battery pack to 15 000$, cells alone.