Discussion Starter
·
#1
·
Been in the EV game for quite a few years now. Have only had electric motorcycle conversions (can see these on Elmoto.net) and this is my first car build. Being in Ohio the MC sits unused to often due to weather or desire to gear up. So I'm getting rid of the bike and upgrading to a car. I do also have a 2016 Volt that is my daily driver.
My first thoughts had me looking at Miata/RX7/MR2 size cars, but I decided I wanted a bit more room in the car and would love a backseat for a bit more utility. This lead me to 3000GT or 300ZX. The other 3 cars hold there value better than the 300ZX and the 300ZX is only slight less efficient (weight+aero). Found a 300ZX about an hour away and picked it last week. Good interior, decent/rust free body and blown, but in place engine. Picked it up for $1200.
It is a 1993 2+2 NA, auto vehicle.
Towing was an adventure and within the first week the only key snapped in half, so I'm off to a great start.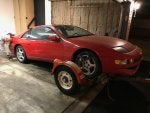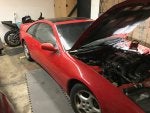 Here are the interesting details. Current plan (but I will discuss other options too)
Tesla drive unit in the rear, replaces rear diff and fuel tank area. Haven't decided on large vs small unit yet. Depends on price/room.
Batteries will be some used EV cells. Dont want to go tesla modules first time around due to cost mainly. Other EV batteries can be had for half the cost. Will be something like Volt, i3, eGolf, or Soul EV cells most likely. All these cells can produce decent power (10C+) and are mostly available.
Plan to use power steering, ac compressor, ptc heater, and brake pump from a production EV or hybrid. Haven't spec'd these out yet.
Goals are to be faster than the stock TT (300HP) and get 100-200mile range eventually. Hoping to keep it under 3500lbs.
Next few months will be tearing the car apart and weighing everything. Thanks for reading -Kyle