OK so I have a few things in the works as I do my EV conversion for the
Fiero Electro
; as I work on this I am also doing a documentary on the conversion process, which I will begin posting somewhere in the near future.
The other is the article of this forum thread, which after the frustration of not seeing any verifiably reliable motor controllers in my price range and powerful enough for my conversion, I have decided to join in with the few others I have seen attempting their own motor controllers.
I have been following MpaulHolmes progress with his motor controller at Ecomodder,
Paul & Sabrina's cheap 144v motor controller
http://ecomodder.com/forum/showthread.php/paul-sabrinas-cheap-144v-motor-controller-6404.html
Seeing what is happening with his project has been the most influential in my decision to do my own.
So this is what I am starting with: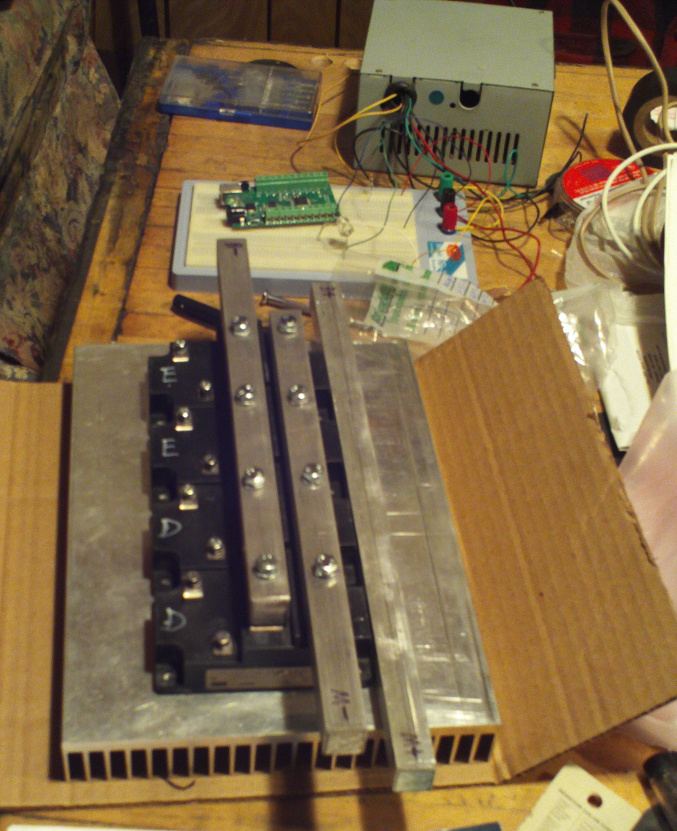 Though they look like IGBT's and are made by tPowerex, they are not. IGBT's, those are actually power FET's rated at 300A each and 1000V there model # is KS621K30 New these are about $300 a piece! But I got these on Ebay for about $90 for all four. I tested each one individually at 12V and 5A and they all work as I would expect them to.
One thing I noticed in the data sheet for these FETs is that they have a natural tendency to balance current load, unlike IGBT's which have a natural tendency to become unbalanced.
For size reference, the heat sink is 8" x 12" with 1" fins and a 1/4" backing plate. The buss bars are 3/4" square aluminum.
One thing you may notice in the photo, that I am doing differently than others is that I am not connecting the B+ and M+ cables to the same point on the positive buss; instead I have one at each end, so that B+ and B- are on one end of the controller and M+ and M- are on the other. The reasons I chose to do this are one, it eliminates the possibility of the freewheeling diodes from becoming disconnected from the loop while power is still being applied to the motor in the event of a loose connection. The other reason is that it will make the connections less crowded.
Plans not yet implemented.
The positive buss will be thermally connected, but electrically isolated from the heat sink
freewheeling diodes will be thermally and electrically connected to the positive buss.
Capacitors will be in two banks on either side of the FETs and positive buss.
I plan to use copper foil with a mylar insulator to connect the capacitors to the B- and positive busses. A narrow section of copper foil will also connect M- to the freewheeling diodes.
The control section;
I have never worked with microcontrollers before, but I found the µCHAMELEON though rather pricey seemed to have what I wanted in a relatively easy format to use. And I do mean relatively, from my experience.
The µCHAMELEON came with a test application which allows you to run some basic functions from your computer over USB without having to program anything. Switching on and off each of it 18 IO pins from the application seemed to work fine as did measuring 0-5V input from the 8 pins which accept A to D input also all 18 pins were able to read IO state of connection to pin.
Now here is where I could use some help; while the programming for this seems relatively simple compared to programming I have dabbled with in the past, I have never dealt with communicating with hardware as far as microcontrollers are concerned, and I don't know how to send the strings to the device? I know that this is bacicly the first step in learning these things , but I can not find any documentation on this which is helpful to me. I am hoping that someone here can help get me started in the right direction.
-----------------------------------------------------------------------------
Correction !
As ga2500ev pointed out to me they are darlingtons, not FETs as I stated above; I had read the data sheet a few weeks ago and I must have gotten it mixed up with something else I was looking at. The power specks however are as I stated.