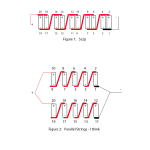 Background:
I am building out a EV kit from EvWest, with 10 Tesla Battery packs. I am going to series 5 bundles of 2 parallel Tesla packs making it ~114Volts (5*22.8volts= 114v). If I am using the naming scheme correctly, this is a 5s2p.
The kit did not come with a BMS and I think I want to add one, maybe an Orion2 and EV Stealth Battery adapter boards, but reading Orion's literature makes me concerned (because I am clearly a bit of a newbie), plus I have a few questions of my own.
Main Concern:
1) Orion talks about not using parallel strings. In my 5s2p setup (Figure 1), have I done this? Or are they talking about two separate strings of batteries (creating higher voltage), then those strings paralleled together? (Figure 2)
1a) So is Figure 2 also 5s2p but in 'parallel strings'? CORRRECT or INCORRECT?
BMS questions:
2) I want to monitor the batteries as best as I can, but from my reading, it looks like if I parallel two packs of Tesla batteries, then the BMS no longer monitors the 6 cells inside the pack? CORRRECT or INCORRECT?
2a) For clarity, does this mean I can ONLY monitor the voltage of a whole "parallel 2 pack"? CORRRECT or INCORRECT?
2b) This means I need a BMS that does a minimum of 5 contacts? CORRRECT or INCORRECT?
2b) If the correct answer is to monitor the five "parallel 2 packs," where do I attach the BMS into this "2 pack", because, there are so many points…. See the diagram and perhaps the community can advise me what numbers I should attach the leads to. (I am guessing points 4,8,12,16,20)
3) With the Orion2, EV Stealth Battery Boards and my 5s2p setup, can I still tap into the Tesla 6 cells just to see them? (I am guessing not)
4) Can I still tap into the Tesla thermistors or do I now have to rig up 5 thermistors, one for each 2p pack?
4a) Can I tap into the thermistors in each individual Tesla Battery pack or only one of the packsin the 2 pack (giving me maybe an approximation of the other unmonitored sibling) or only my home made thermistors for the entire 2 pack?
5) Any other important safety things or obvious things I am missing?
6) Should I go with another BMS, like Thunderstruck Dilithium BMS?
Thanks
Doug