Thanks to request from members of this DIY Electric Car forum, we developed a way to monitor the status of a Lithiumate Lite or Lithiumate Pro BMS through any wireless enabled computing device, including smartphones (iPhone, Android...) and tablets (iPad, etc.).
The device is a WiFi Hotspot with two cables: USB to the BMS and 12 Vdc power.
Select the "Lithiumate" network, enter the password ("elithion"), and open a browser to 10.1.1.1
The browser will show the state of the BMS.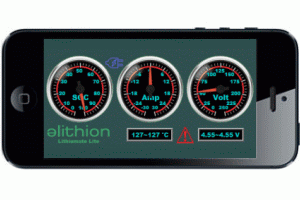 You may add one to your present system (Rev 2.xx required for the Lithiumate Pro), or order it as part of a new system.
You may order from your favorite
reseller
, or directly from
Elithion
.