Discussion Starter
·
#1
·
I own a Nissan Leaf now, and I have been internally laughing about how the "interface," ie: the pedals, etc function to mimic a petrol automatic transmission vehicle. -- Let off the brake, the car starts to lurch forward. Cruising along? -- Let off the "gas" and the car starts to pull back (regen.)
It really has nothing to do with the mechanical system in this vehicle! It's just designed so that everyone will be familiar with how to drive this thing.
It seems to me that an EV could have a considerably different interface which more accurately reflects whats going on mechanically behind the scenes.
I was inspired by the old steam cars which had a "double-wheel" ~ the outer wheel steers, and the inner wheel is the throttle, which you open up, and just leave open at a certain power setting ~ a little more like cruise control. Looks so luxurious somehow! Kind of like you are always in cruise control~
https://youtu.be/wBU8IPyUyTk?t=6m13s
As I'm driving my Leaf, I am really wishing that there was a way to set a fixed amount of power being delivered to the motor. Think Captain Pecard: "Warp 2 - Engage." This way there would be a gradual acceleration down hill, and a gradual deceleration uphill. Maybe even better would be if there was a way to specify the efficiency that we wanted to achieve?
I have this awesome shifter on my conversion project, which looks and feels just like it's off of a space-ship: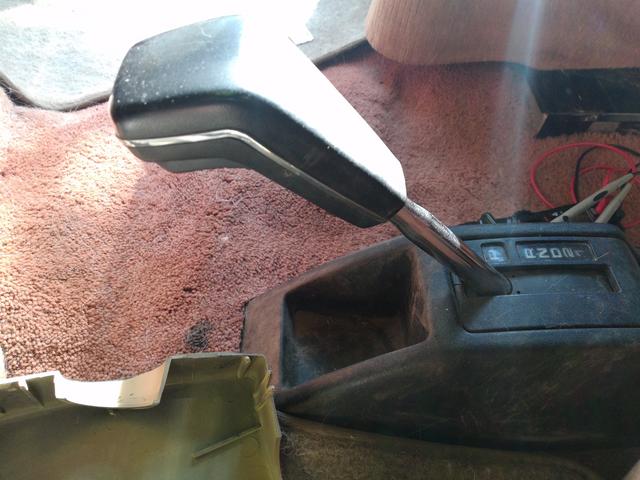 How awesome would it be if: Shifter all the way down (in 1st) was 0 power being delivered to the motor. All the way up was "full" power being delivered. Similar to a gas-pedal, but controlled with your hand and it would just stay-put wherever you left it last time you touched it. . . (no spring action.) I can already hear the safety nuts coming out . . . what about emergency breaking?!? Well, you hit the brake and you pull the throttle way back~!
It would function more like the throttle on an airplane. . . why am I feeling like this would be more appropriate for an EV? And potentially inspire a more efficient mode of driving? It's not so important exactly what speed your going this second. . . what's more important is how much power are you using as you get there~
How hard would it be to design a speed controller for a DC motor that would be able to utilize this shift lever as the power input?
On a related note, something I've been wondering about. I think I've read some AC motors have a built-in "parking" effect. I'm assuming this means the motor is engaging some power to remain stopped? Does this consume a lot of battery power though? For example, if I'm sitting at a red-light up a steep hill and the motor is what is keeping the car from rolling, doesn't this use a lot of power? . . . . for this interface, it would be a neat effect if when the throttle lever was pulled all the way back, it smoothly went into a "park" mode where it was not going to roll on a hill. . . Just dreaming. . . Not planning on designing any new AC motor control software anytime soon. . .