Discussion Starter
·
#1
·
Thread title changed from EVan-Tricycle as the project now has four wheels.



This thread is a continuation from my earlier Trike thread which can be found here: LINK.
The direction of the build project changed somewhat due to personal circumstances and so it seemed sensible to split the thread and make it easier to follow.
I am going to revisit this project as I have a lot of parts and I want to build something that will be (legislation allowing) a road vehicle.
On that basis I am not placing any strict long term goals but just experimenting with an idea.
The original concept was for a vehicle to do a 35mile (possibly 70mile round trip) commute but, with the job gone and my ailing health making it unlikely I will ever choose to work outside of the local area, I can relax the requirements and change the concept to suit.
The requirement is a vehicle that will be good for a couple or three miles on 40mph busy roads, with the same again in stop start urban traffic, and have an overall 15-20 mile range (for round trips) with gentle driving.
I will also need to be able to carry my tools and some construction materials to jobs, or a craft stall and stock for Arch and her craft items to go to local markets and craft fairs.
I got the impetus from
Todd's Ice Cream Van, now the PackRat
project and looking at old vans like this.
The idea would be to look at a forward control (cab over) version to give maximum load area.
I had played around ideas with both three and four wheel versions, including looking at using a Citroen 2CV rolling chassis.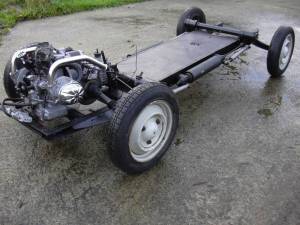 It would be ideal, front motor, front wheel drive, flat clear load area, except that they are getting expensive, rusty, and the brakes and load capacity are tiny. However, a big wheeled 'Beryl' would be perfect.
This is 'Beryl'.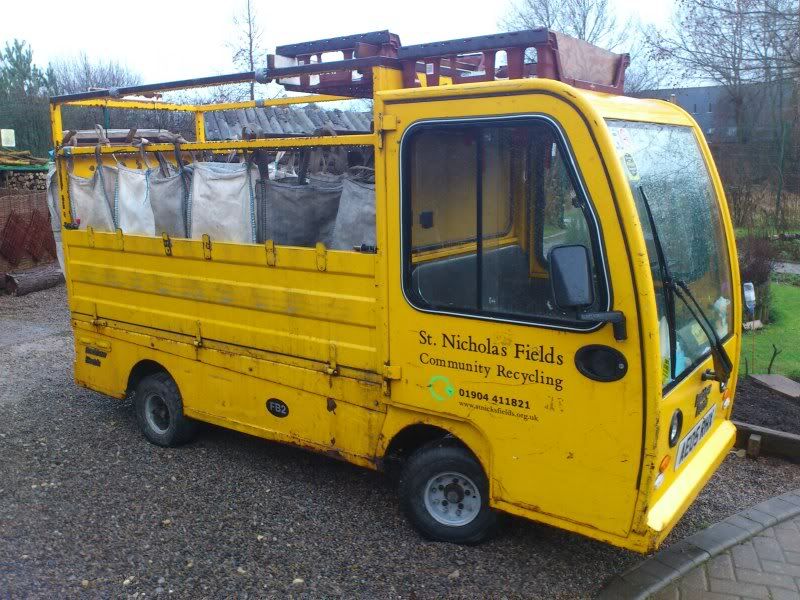 I also would like to use the parts I have, where possible to save money, and that means the MGB front axle assembly.
It has the advantage that the steering rack is ahead of the axle and so easier to rotate the column forwards to put the steering wheel ahead of the axle line.
I am going to work up some sketches around placing a two seat cab (similar to 'Beryl's') placed over the axle, with the wheels under the seat box and foot well ahead of the wheels.
Behind the cab will be a battery pack in the floor with a covered cargo compartment above.
If I go with a trike layout then the existing rear motor and swing arm will be used. However, if I happen across an MGB rear axle cheaply then I can put the motor on the front axle cross-member and have a drive shaft to the rear axle. I think if direct drive was good enough in the original plans then it may still work now, but there is the option of adding a transmission in the middle.
The plan is to use one of the 72v controllers I have been gifted and some 'pre-loved' lead acid batteries to get it mobile and legal (fingers crossed) and then look at how much performance it gives to determine how much more I will need to get the performance and range I want.
Stage one will be to mock up the cab over the front axle and leave the rest of the chassis vague as that part is going to be variable depending on pack, wheel arrangement and load space needs.
This will, as always, progress slowly as I am about to be busy demolishing and rebuilding a bathroom for my folks, and also building my marital bedroom suite.
So, when I get a chance for a breather I will do some measured sketches and see if this works and warrants its own thread.