For sale:
Approximately 290 K2 Energy LFP26650P 3.2V 8.32Wh in good condition.
Cells were purchased new in 2011 and were used on a university electric snowmobile project for 1 winter. The vehicle saw very little use and the cells have been charged and discharged now more than 3-4 times. Cells were pulled from the vehicle the following year and have been in storage ever since.
The cells are currently glued to together in 18 cell packs with a number of additional loose cells. Some cells have small amounts of solder on their terminals. However cells can easily be separated with an x-acto knife.
See pictures and datasheet below.
Asking $350 OBO + shipping for the lot.
Thanks.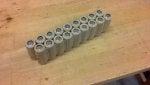 View attachment LFP26650P.pdf