Discussion Starter
·
#1
·
My electric boat motor ready to ship to the ship and install.
Yes, it's probably the wrong motor; but it was available within driving distance and I could afford it. It came with an old type altrax controller, and no reverse.
As it's made as an intermittent use motor, I beefed up the cooling with a large fan and a water cooling jacket on the outside.
I'm using a 3.8/1 gear set I had lying around, and a further reduction by cogged belt.
I bought an old albright reversing relay from ebay; it was 12v intermittent but Albright has supplied me with 48V continuous duty coils, [and the lighter springs they need]
Here's the assembled unit ready to ship; the control is mounted on a water cooling chamber. the connection bars are 5x20mm copper.
I have a lot of build pictures and I'll post them if anyone has interest.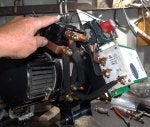 In the crate with the diesel engine I rebuilt for the boat; I made the crate from a dead tree that was in my forest. No trees died for this.