Discussion Starter
·
#1
·
My wife says that I should start a new project to keep me sane during this pandemic since I'm no longer racing with my track car or UTV. My initial desire was to buy a forthcoming z06 C8 corvette but considering I work from home now and am no longer driving much farther than to pick up my son from school, she thinks I won't find nearly as much enjoyment out of just "having" this car than building a new one.
Being in California, my choices are traditional engine swap using a 50-state legal crate (the e-rod LS swap @ $12-15K) into a 95 or older donor or something cheaper into a pre-1974 chassis. At the end of the day though, I'll end up with a car that if it takes me a while to build (call it a few years), I expect I will only have a few years (IMO <10 yrs) to enjoy it while a) gas is affordable and b) California starts cracking down further on gas-powered vehicles.
This has led me to consider an "interesting" car, with a timeless look, and doing an EV conversion on it.
This isn't something to build and then resell later; I would want to keep it for the rest of my life and fortunately, I have the garage space (even in SF) to do so.
Anyway, my wifes only stipulation is that she wants a car that seats 4. My son is only 6 so even a 911 sized back seat will be sufficient.
Use-Case is not as a DD (I have an appliance - a white Prius - for that) but as a car to enjoy on weekends and for other errands. I don't mind having the car in pieces for an extended period of time as I find THAT more enjoyable vs just writing checks and having someone else do the swap for me.
Given the budget, I want a donor will all the trim/minor switch bits in the $20-$60K. Having the car running would be a plus because I don't mind enjoying the car as an gas powered vehicle while I fix up the other systems which will likely need work (suspension/brakes).
My expectation is that the Tesla DU based EV kit (like the one sold by electricgt.com) will run me ~$40-42K. I'm OK with that even though I recognize I could buy a whole poverty spec Tesla for that price (which I don't want). Based on my research, it seems to be a fairly "straight forward" swap with the hardest custom parts will be building your own battery box and the LDU mount bracketry.
I want something nimble which means decent handling with a preference for the engine being in the middle (never had one).
I'm not afraid of tearing apart a car and replacing/upgrading whole systems with that. I've done that with my lemons track car (V6 -> V8, automatic -> manual, complete car harness stripping/rebuild, brake/caliper upgrade, DIY suspension using parts meant for another car, and tweaking the ECU firmware using Moates quarterhorse).
I have one 70s exotic in mine but am open to suggestions.
I did consider the volvo amazon but the trim bits/parts availability worries me. I'm also not 100% sure handling will be great and I suspect I'll have to spend a lot of time dealing with that.
The BMW 2002tii is another option (wife likes the timeless greenhouse) but Id like the engine in the middle.
Finally, the 911/912 variants seem like a good mix of parts and EV KIT availability but they don't speak to me (capable car but there are plenty around).
Anyway, I'm also interested in feedback on the ElectricGT kit.
It seems like it has all the parts I need and the AEM VC software has a lot of control functions I would need to tune the car for driveability -- not everything is lived a 1/4mi a time at WOT
I see that its their own battery modules using LGChem pouches but I need to do more research on them.
Q: Are there other EV kits I should consider?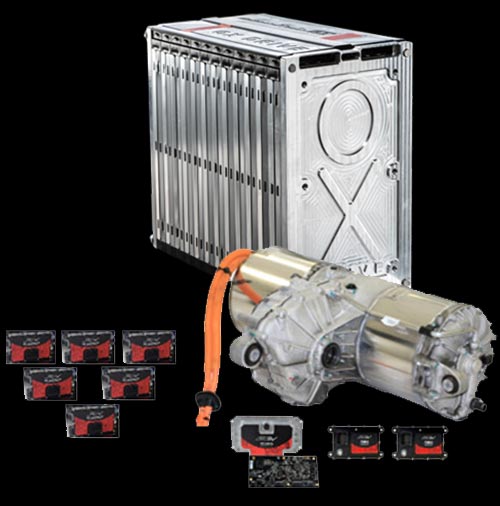 Electric GT is now offering a complete Tesla Motor Swap platform (DIY) for EV builds and conversions. EGT's package includes a large base Tesla Drive Unit inclusive of AEM's new control board pre-installed, tested, and ready to go! The drive unit is paired with AEM's Battery Management System...
electricgt.com