Discussion Starter
·
#1
·
In my EV project I am trying to avoid lead batteries if at all possible. I have been using the hobby 3S LiPo batteries like you would use in RC cars and it works great, except right now I have no onboard charging. I just watch the voltage and swap out packs when it is getting low. Not practical, but not terrible since the range of the car is only 25 miles or so. With no power _anything_ in the car the only draw on the 12v system is the motor controller brake lights and turn signals.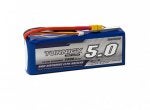 I have a 13.8v DC-DC converter but its not hooked up yet.
Question is: how can I get this DC-DC converter to charge my 3S LiPo pack when the high voltage is on, without overcharging it? Would just a BMS do the job for me? It just needs to provide voltage to the car until the contactor for the motor control closes, which is around 1 second after the key is switched on.