Update, Bodywork:
Keep in mind, I've very minimal bodywork experience. The goal here is to make the yellow piece fit the orange pieces, and no longer just in a rough way.
After months of staring at things and not knowing what to do, and it being too late one night to run a grinder, I eventually just grabbed tin snips and just started cutting to motivate myself into acting. My logic was: If you cut something tonight that you're not supposed to, you can fix it faster than you figure out what's perfect (and won't ever anyway).
Started with the passenger's floorpan: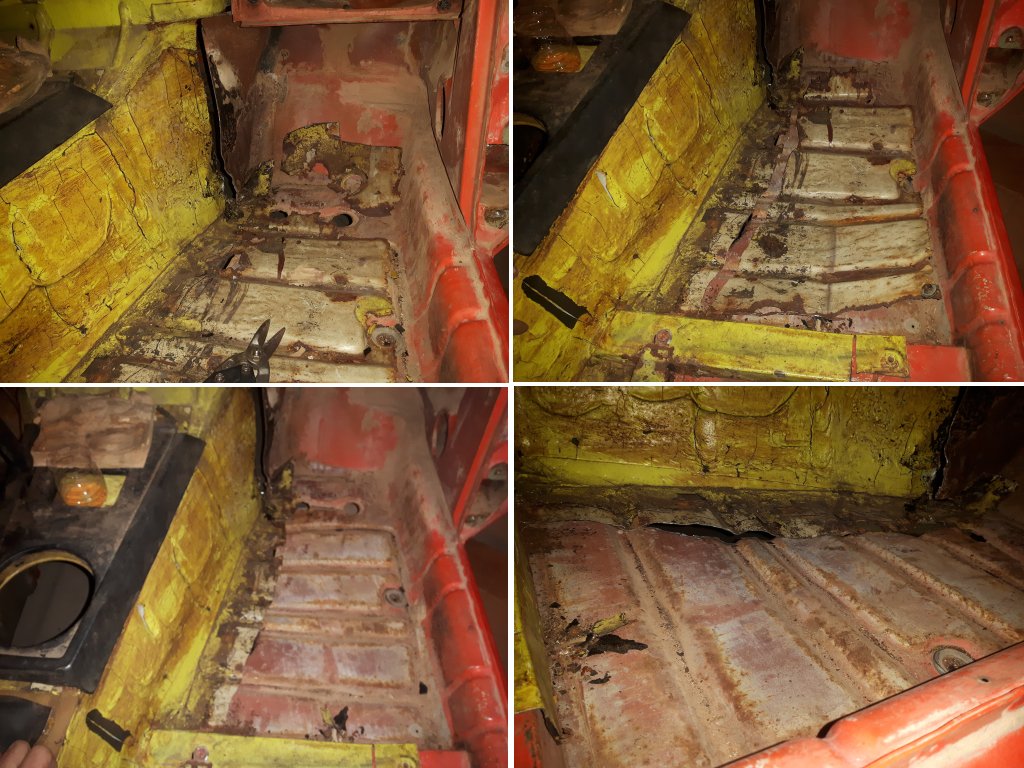 Whew. I measured from the frame edge underneath and still got it wrong. It varies from 1" overlap to zero overlap. Oh well. First bodywork in 3 months, broke the seal. Onward next night!

That's the driver's floorpan. Good enough.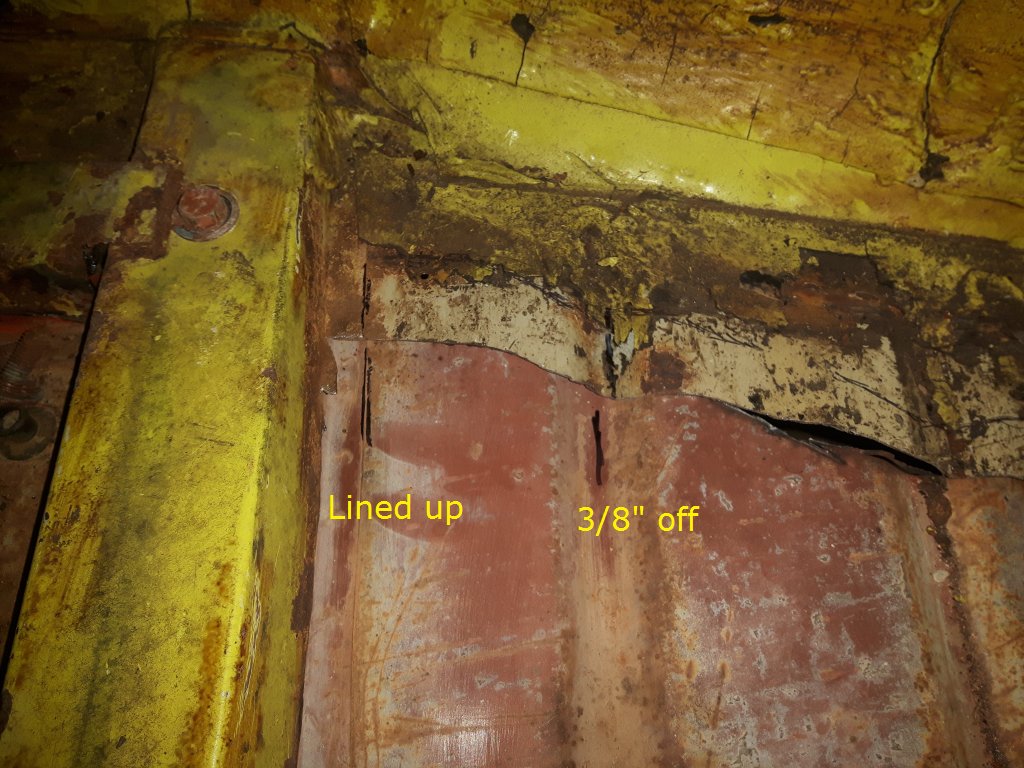 I'd been trying to figure out why my nested seat rails were making the floorpan so far off. I figured it had something to do with the added sheet metal width and not being perfectly flush. Nope. When I lined up the metal seam at the bottom of the rail, the floor grooves on the very first groove are already 3/8" off.
Why?
I figure, because they were hand assembled. Each car is a little bit different. Great news, it means that basically nothing matters precision-wise, if the factory was so variable itself.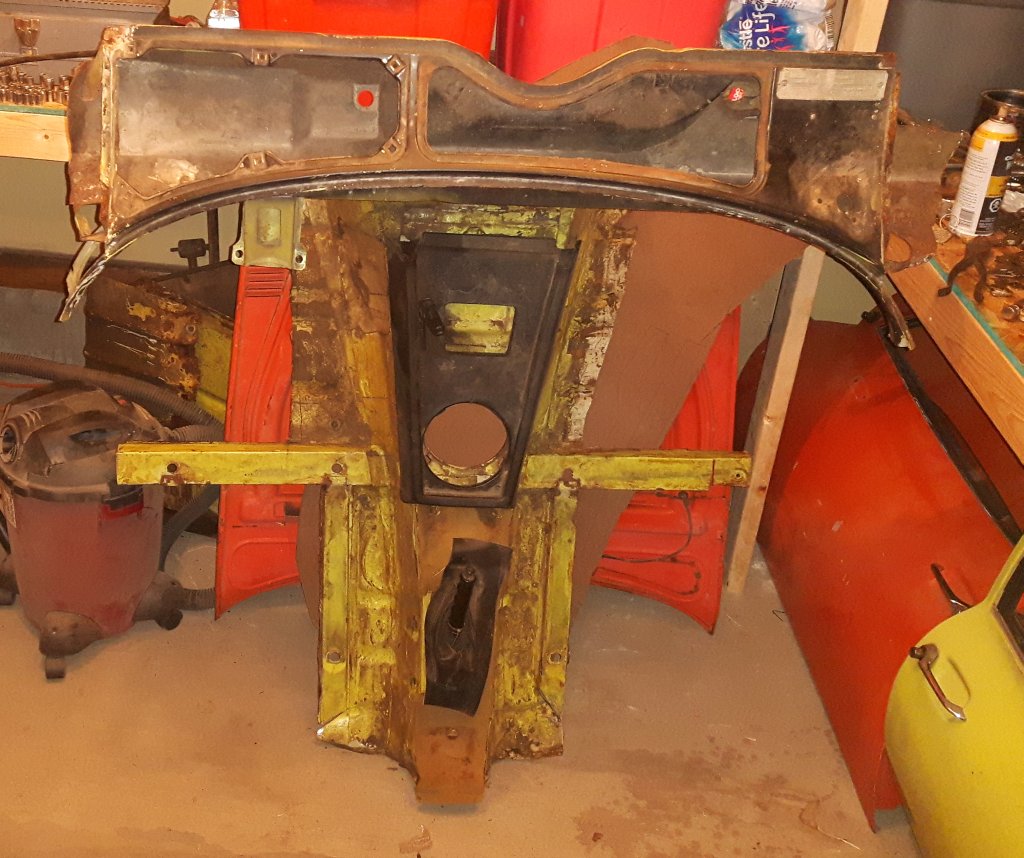 This yellow blob has a vin. This yellow blob is "a car". The rest is all "parts".
Quite a compact little car, about 4' x 4'.
I was terrified of doing this, because it took 3 of us half a day in Phoenix to shove this yellow bit into the orange body. But, at the time there were 4 more floorpan pieces and 2 more seat rails attached.
I figure most of you have never seen these panels out of the car. Let's take a tour!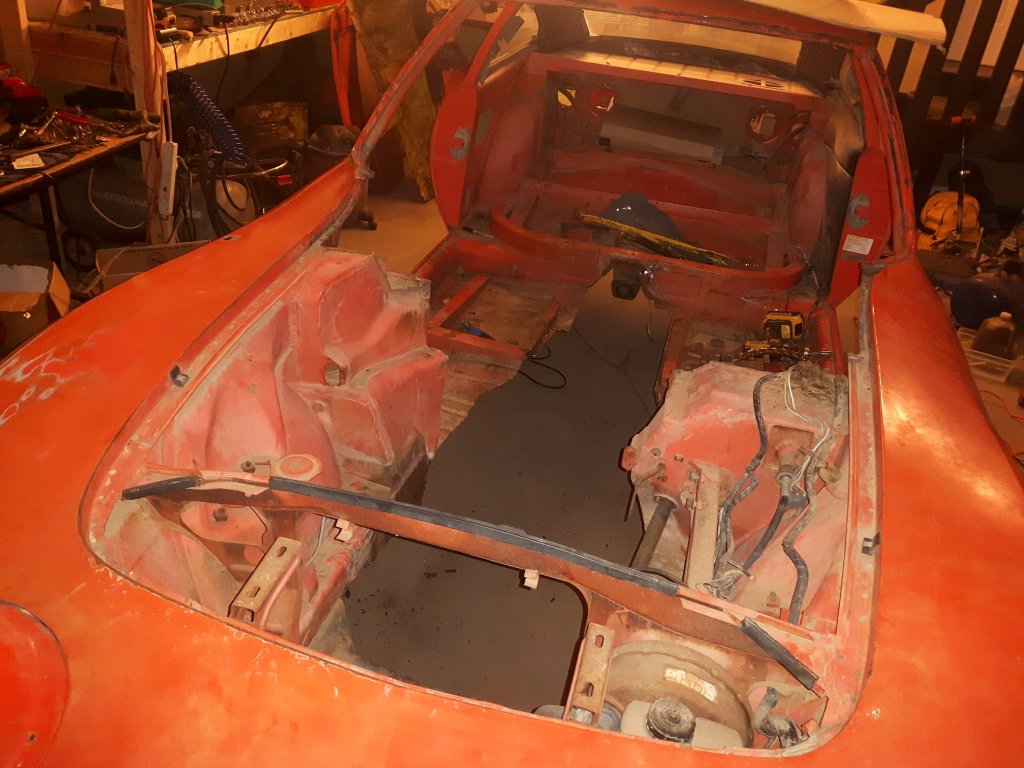 Check out the view!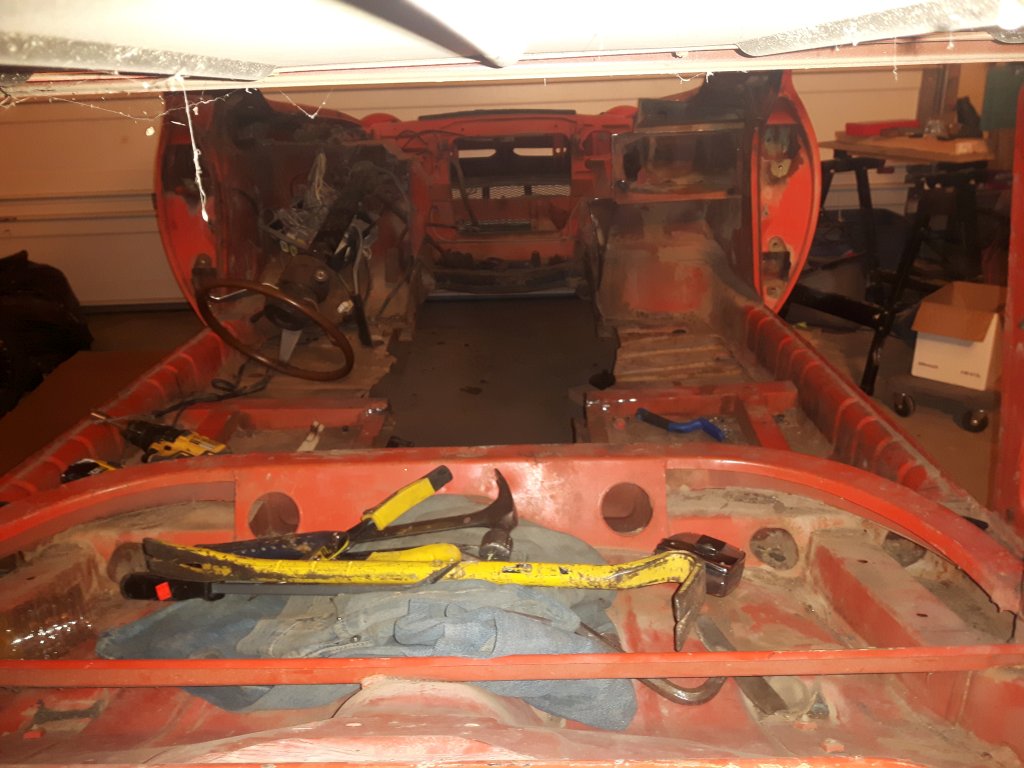 Quick peak up her skirts from behind.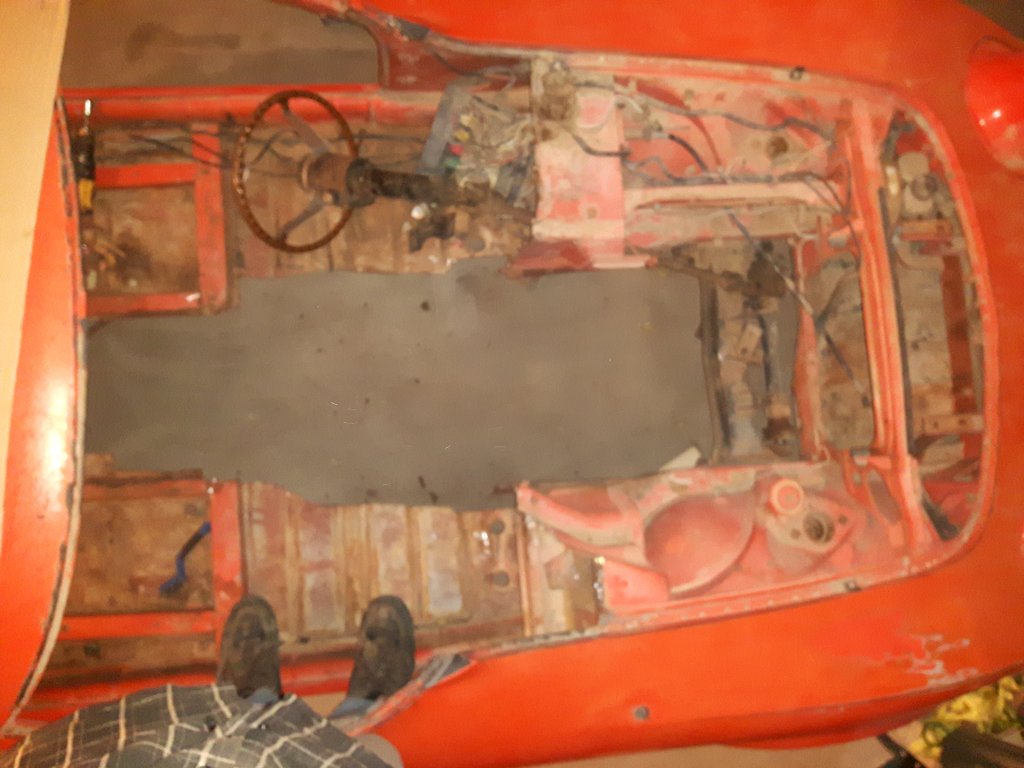 From headlights to diff, nothing but space.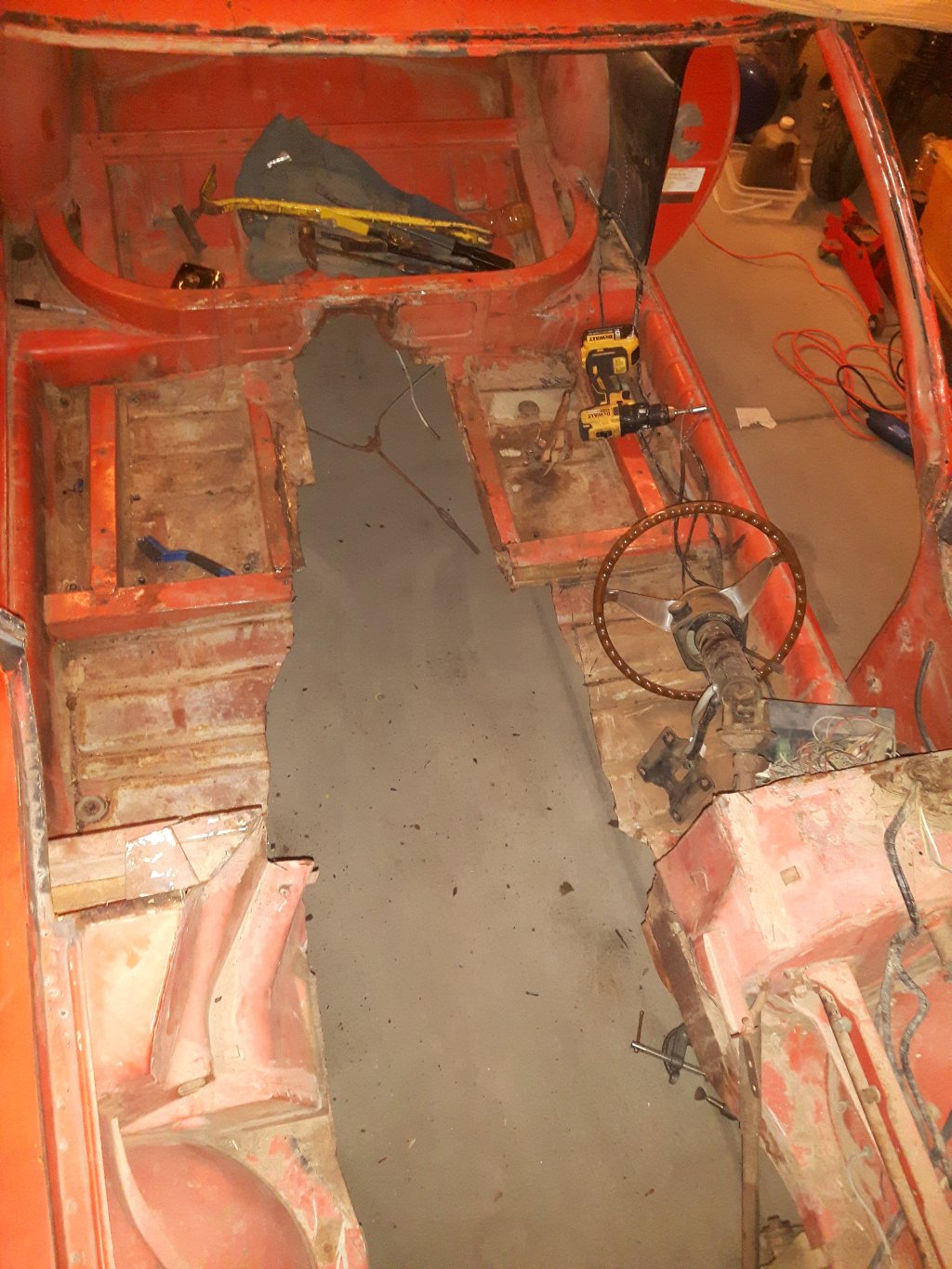 I highly recommend removing all this unnecessary paneling when servicing your GT. It makes working on the car so convenient. Rolling from parcel shelf to engine bay without even having to lay down on the creeper.
Okay, back to work. This is from inside the engine bay, looking at the box where the cabin heater assembly goes (VIN plate is just over that yellow lip).
See the top of the yellow lip where the metal is torn?
In order to originally shove the yellow car inside the orange body, the three of us used prybars and my legs. It did not want to go. This resulted, I suspect, in bowing the top of the firewall upwards into an arc, and deforming some of the metal below.
This is going to be an ongoing issue.
The yellow panel is fit. That's how much it doesn't fit by. I have to go at some of the sections where it's being blocked and start chopping metal until it fits.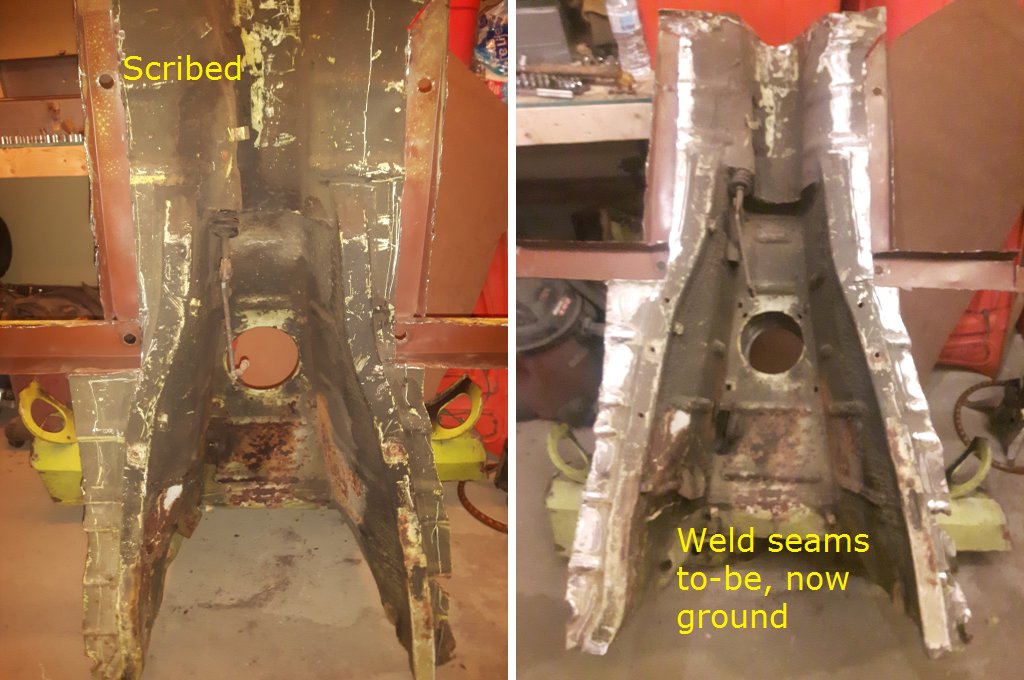 I scribe some lines from underneath the car to see where I have to clean the sheet metal to prep it for welding, and then flapwheel the grime, paint, and undercoat off.