Discussion Starter
•
#101
•
Onto less boring things, progress and pics!
Casting Progress:
- I cleaned up the other half of my borrowed garage, and built another pair of 8' long 2x4 shelves. So much room, for
activities
!
- The very last thing I did was move some cheap plastic wall-hanging shelves. Behind which I discovered... a 240v 50a outlet. Perfect timing, as I'm done pretty much all my welding with my crappy 120v 15a welder. *sigh*
- I finally got 2 molds to turn out decently. The secret was to be less ambitious about depth (1/4-3/8"), and, to mix yellow fiberglass insulation into the plaster so that it wouldn't crack across the whole mold when removing it (it worked).
- New casting (right) turned out great. On the outside. I forgot to pre-heat the mold so, steam boiled out of the mold when I poured, and volcano'd all the copper away. The surface is all that's left. Which is fine for EDM, I'm only using the surface. Surface finish is also great, only needs light touchup:
- Ruined my steel crucible by letting it get too hot. Top 1/3 of my copper poured out into the sand, bottom 2/3 is kind of stuck in a furance I can't use now. Oops.
- No problem, I'll go back to using my firebrick directly. Oops. I liquefied the firebrick into glass and then burned through it too:
- It probably makes sense if I explain that I upgraded my carbon arc furnace before this, it puts out a lot more heat now. Probably close to 500a at 24v.
None of this matters, since I probably won't be doing EDM. I might be using the furnace still though.
Brakes:
- Let's have a closer look at the master cylinder.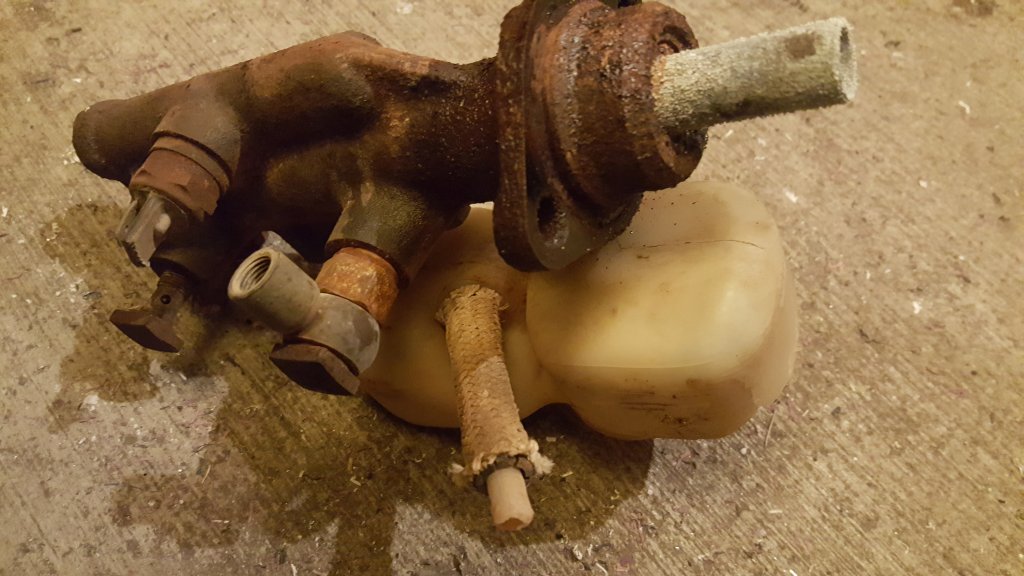 - What about the brake booster?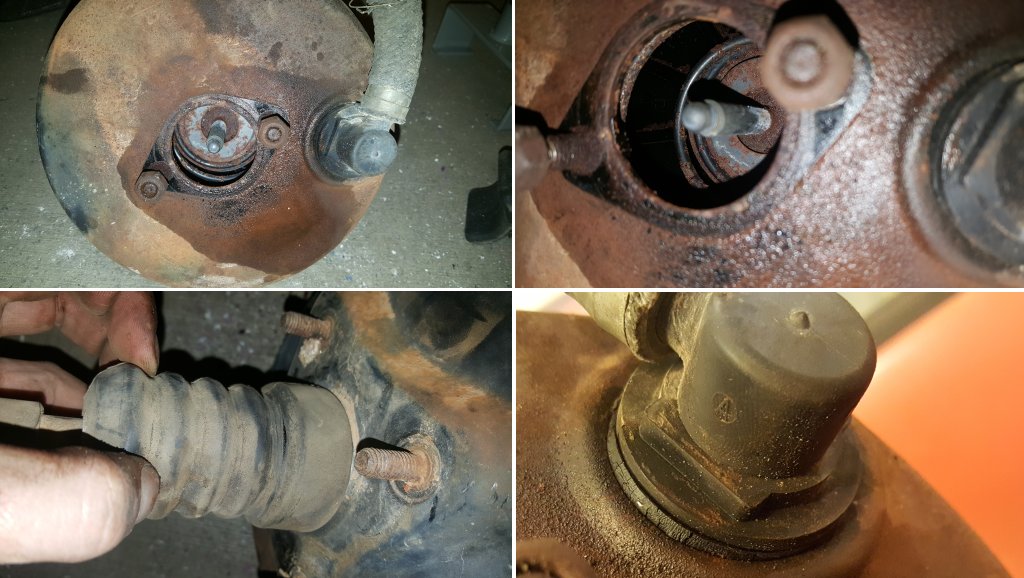 I might have wrecked it, trying to unscrew the vacuum attachment. It now sloppily spins (but didn't come out of the metal enclosure).
- Front brakes apart.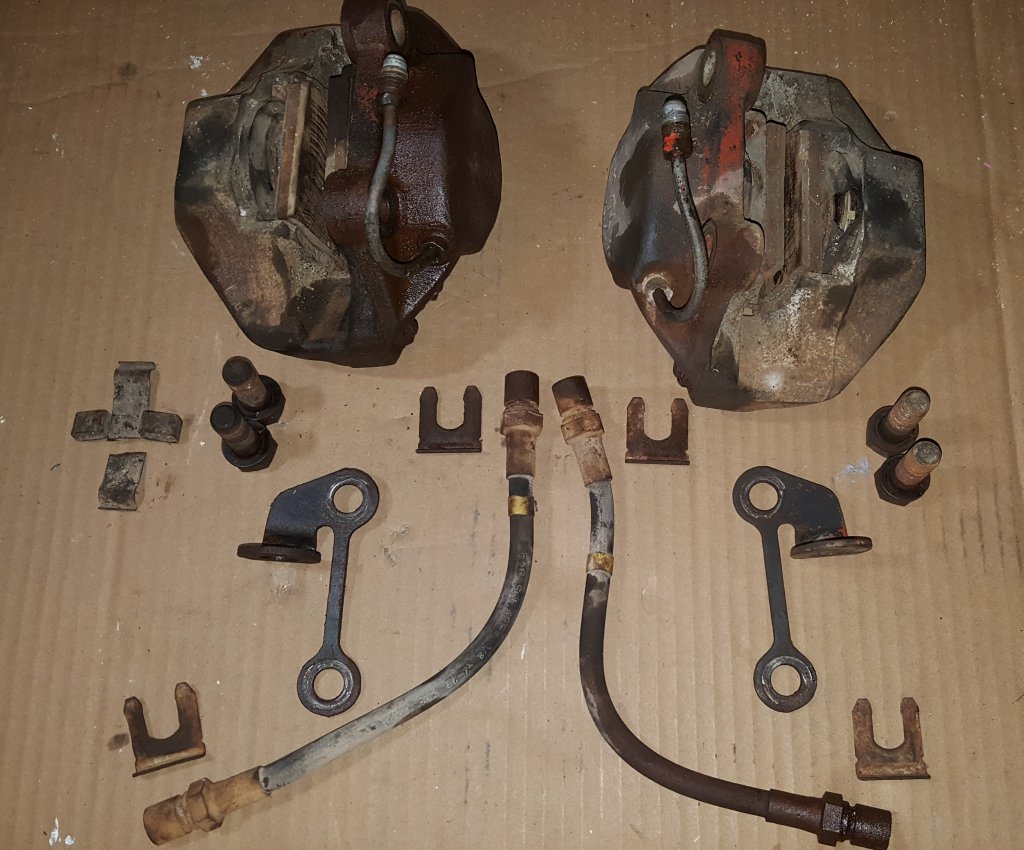 Stripped one of the j-tube fittings (no problem, I'll screw it back together using vice grips, and just always disconnect the other end of the rubber hose in the future instead). Found broke the cross-shaped brake pad clamp on one side. Pistons okay on one side, other side the rubber was cracked.
- A transformation!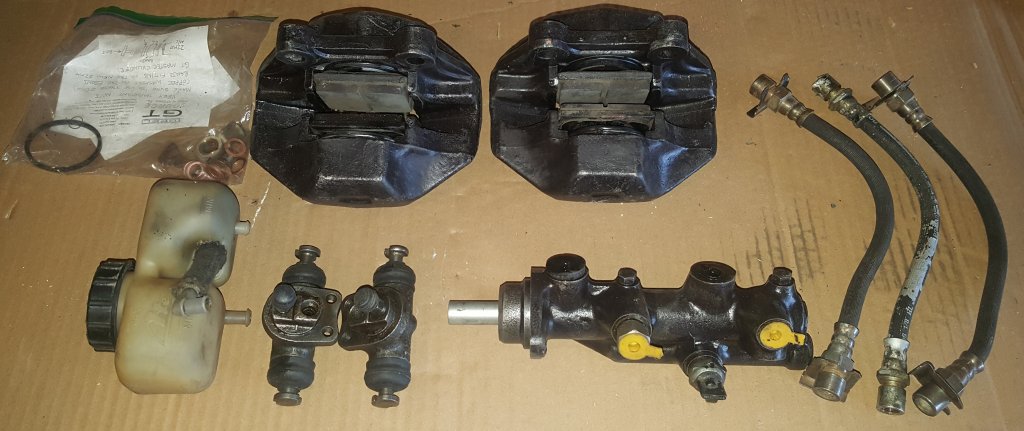 How did I restore them so well? I didn't. I bought them out of the local parts co-op, recently donated from another member who wanted to use them but upgraded to a big brake package instead. Ended up being free because of parts I've contributed that I didn't need (like a good gas tank from a desert vehicle).
I had no interest or skill in refurbishing brake parts so I just paid other GT guy to do it for me. Great value and peace of mind on something I don't care about doing and just want done.
My old reservoir had a matchbook-sized hole in it, and when we tried to pull it off, it half shattered, half crumbled in his hands. Desert car - win on the metal, lose on the rubber and plastic. Was junk anyway, but, yeah.
- My brake fluid reservoir cap was also cracked, so I took it to the junkyard and practised on 30 or so vehicles until I found one that matched. '04 and '07 Mazda 3 had screw caps (not tabbed caps) that seems to fit perfectly. $2.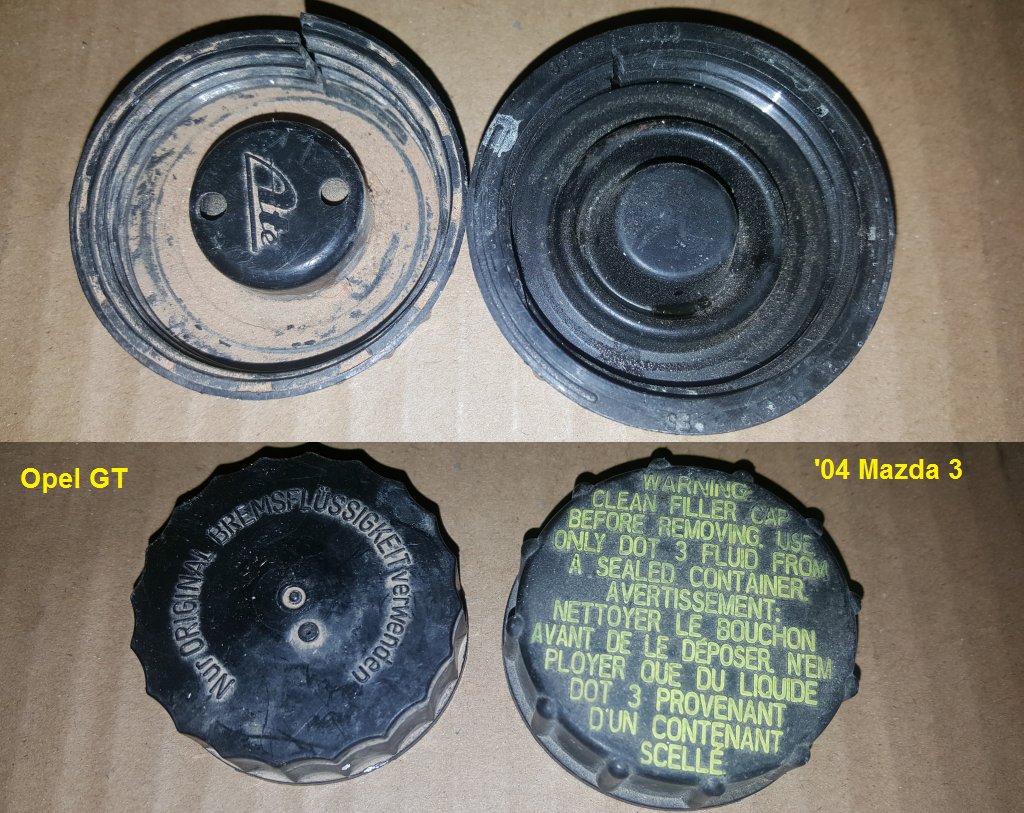 Windows and Doors:
- I spend a couple days reading old threads about converting the Opel GT crank mechanism to power windows. Consensus seems to be 1996-2000 Honda Civic sedan, front window regulators are a good match. They are known to be durable unlike other brands.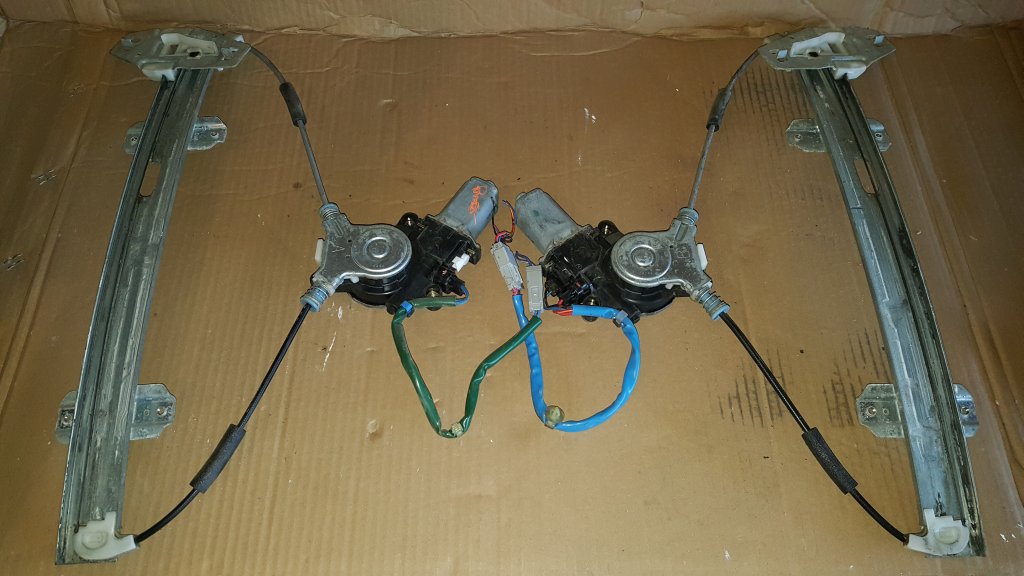 Despite so many threads, there's not a consistent write up, nor labelled diagram, and conjecture is mixed in with proven results so it's hard to know what to door use. I'll try to write an article about that if I can colimate the advice correctly.
In brief:
- Flaw of original Opel mech is that both cables go to bottom, which is a hard angle to follow.
- Honda Accord openers both go to bottom, hence the Civic ones which form a bow-shape instead are maybe better. They're also close to the correct length.
- Using the actual slider seems to be abandoned. Even the Civic ones are a couple inches too long and arch is wrong and the attachment points are wrong. So instead you remove the slider from the donors and mount the motor and cables to the original slider mechanism.
- It might not actually matter what regulator you use because of this, I think this might be Xerox advice where each person copies the person before but have lost the context of why. Like the recipe that tells you to cut the chicken in half before putting it into the roaster, you eventually discover is because grandma's roaster didn't fit a whole chicken, it has nothing to do with improving taste, spice coverage, moisture, etc.
- The cables end up getting cut anyway (do not let them go loose, hold them with tape or they'll tangle in the spring mechanism) and then just clamped into the Opel slide mechanism.
- Opel GT windows get very tight towards the top. These little motors are weak and barely get the job done. Doors are often crooked without you noticing. The rubber sliders that the glass contacts is adjustable and many people don't know this. There is a procedure for this to help if needed.
- Maybe you should just get motors from bigger vehicles with heavier windows instead of Honda Civics, since the slider and cable length no longer actually matter, no one has ever re-used the slider mechanism anyway.
- These things are no cheaper from a junkyard than they are brand new. So just buy new ones.
- Quarter-panel automated window openers. From 1996-2000 Dodge Caravans. Or, 2000+ Caravans, but they'll be backwards so you'll have to flip left and right.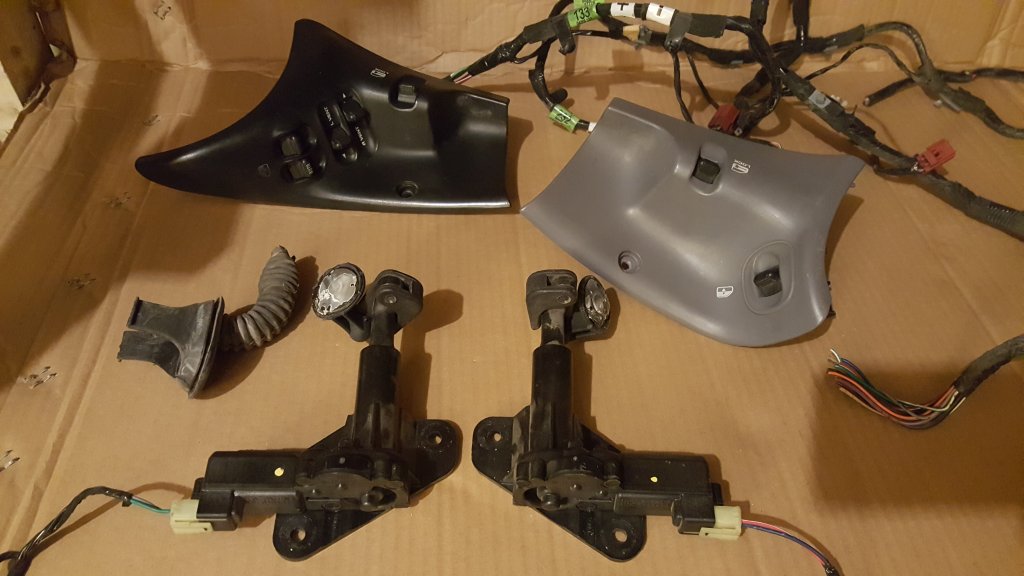 Nothing fancy to access them either just yank the plastics out. Two 10mm bolts hold the actuators on. $5 apiece at my junkyard.
Caravan switches are lighted switches, DPDT momentaries. Mine were $15 for the driver's assembly and $5/switch for the passenger. $15 extra for the wiring harness (I should have just cut it off a few inches after the plug, would've been free).
Many vehicles have shielded, press-fit rubber connectors to the doors. Caravan ones kinda suck, they're very short. The Civic ones were quite long, comparatively. Didn't look at enough vehicles to recommend or buy any particular one for being a good match to the GT.