Discussion Starter
·
#1
·
Our initial Kia Soul EV Pack performed flawlessly and was able to power our Tesla drive unit at up to 375HP at the rear wheels. However, 27kW-hr was not enough for our 20 minute races. We knew this when we put it together, but when we designed the car in 2015, there are no other packs that fit our cost, performance, weight, and size criteria.
Earlier this year, we looked at both the 60 kW-hr Chevrolet Bolt pack and the 2018 40 kw-hr Nissan Leaf pack. We initially decided on the Leaf pack because of the friendly form factor of the modules, but the launch was late which meant that it would be difficult to get a salvage pack in the time frame we wanted. We changed our minds when we saw that Bolts were readily available and the Bolt pack offered us the possibility of using liquid cooling.
The entire Bolt pack is 60kW-hr and 900 pounds. The configuration is 3P96S arranged in 10 modules. Eight have 30 cells, and two modules have 24 cells. Cells are arranged in groups of two so that one surface of each cell is touching a cooling channel. We decided that a 2P96S configuration would be ideal. Nominal capacity of two parallel cells is about 115 A-hr.
We purchased a 2016 salvage vehicle out of California via an IAAI auction and proceeded to strip it down. Unfortunately, when we disassembled it, we saw that the tabs were ultrasonic welded after mechanical assembly. This meant that we had to cut the cells apart and re-join them. The good news was that the carriers that held the cell pairs were symmetrical which allowed us flexibility upon re-assembly. The cooling scheme was also very simple. Aluminum cooling plates sat under the modules and contact with the cell sides was via a simple sheetmetal "C" section.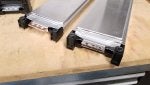 To fit into the envelope of our old battery pack, we decided to utilize six modules stacked three high. We added an extra cell per module to bring the total cell count up to 96. The module dis-assembly took many patient hours with a Dremel cut-off tool. First the connectors joining the parallel groups had to be cut, then the 3rd cell had to be cut away.
This left a number of cell pair that were already connected, and singles which had to be flipped around and re-connected. We designed custom copper connectors that were CNC cut and bent to re-join the cells via a bolted connection. One benefit of using our own connectors is that we were able to use thicker copper than the factory LG cell connectors.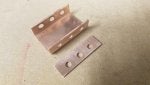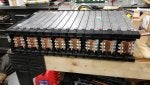 We did careful testing to make sure our bolted joints had no greater resistance than the factory joints. Voltage drop at the joints was measured under load using an AC power supply.
Because of our different pack form factor, we were unable to use the factory cooling plates. We designed our own that that doubled as mounting plates for the modules. The cooling plates were made by cutting a serpentine fluid path out of foam, then sandwiching the foam between sheets of aluminum. Chilled water runs in the channels The ends of the cooling plates doubled as a mounting platform for our contactors, pre-charge relay, master on/off, and Orion2 BMS. We utilized four cooling plates to cool both the top and bottom of the cell. The factory configuration provides cooling on one side only for most of the cells.
The battery box cover was constructed of flat composite panels constructed of carbon-kevlar cloth wrapped around a foam core. The box needed to be light, yet provide a high degree of ballistic protection. We did a simple vacuum bagged, wet lay-up, using a piece of melamine as the mold. One of our sponsors, Calmar fiberglass, let us use their oven to cure the high temperature epoxy.
Total weight of the pack with all electronics, covers, and mounting straps is about 550 pounds. Overall size including the electronics is approximately 41"x16"x16". This is similar to our Kia Soul pack, however now we have 13 more kW-hrs!
The cooling plates appear to work very well. We will use them to pre-cool the pack before a race and also to keep temperatures down during a race. During testing we were able to drop the temperature of the pack 10-15 degC/hr. For the 2019 race season, we will implement an on-board AC compressor/chiller system.
For our initial tests, we ran the vehicle on a chassis dyno with no battery covers and used an infra-red thermal camera to make sure that we didn't have any un-wanted joint heating or cell heating. Max power at the rear wheels was about 10-15% lower than our Kia pack. This will not affect us for road racing as we cannot run the 20 minute races at max power anyways. This translates to about a 9C rate for the LG Chem cells (vs 15C for the SK Innovation cells in the Kia pack).
We did some testing at our local race track and preliminary results showed that we have the extra range were looking for. We were able to turn regenerative braking off which meant that we could drive the car harder into corners. Lap times were accordingly faster. The first actual race with the new pack will be in mid October.