Daily: Tesla Model S, EV Build: The Magnificent Favelec!
Hi all,
Well I thought it was about time I got round to writing up my build, I actually started it 3 years ago, and have just got back to it due to life getting in the way!
I'm calling it the "FavElec" short for Favorit electric. For those of you not familiar with the car, it's a Czech built VW Golf sized Hatchback, nice and light, so hopefully a good candidate
Anyway, as I hadn't a lot of cash spare to buy the main electric drive parts, I started by sorting out the car itself, then moved on to the battery boxes.
The car was already very good, having only done just under 20,000 miles from new, but it did have a few knocks from its careless elderly owner (and his dog!) So I started by attending to the following:
* New bonnet was painted and fitted. The old one was a replacement following a minor collision in the past and had rusted due to having an inadequate paintjob!
* Removed, repainted and refitted the drivers side wing. Again this had been replaced before, with bad paint and fit!
* Removed, repainted and refitted the front panel. As above bad paint and chipping.
* Repainted both small panels above the rear wheel arches. This was due to minor scratching/dents, thankfully no rust was present!
* Refurbished and repainted all four wheels. lots of curbing on the fronts!
* Replaced the door bump strips on the drivers side rear and passenger side front doors as the old ones were bubbling from the steel inserts in them rusting.
* Replaced the front and rear bumpers with good undamaged used ones.
* Same for the rear mudflaps.
* Stripped and repainted the passenger side mirror housing as the alloy had corroded.
* Replaced the drop glass in both rear doors. Owners Jack russel had been busy scratting at the glass!
* Replaced both the rear door cards with good undamaged used ones. Jack russel again!
So having done that little lot, which took me several weeks on and off the whole car body was worked over with Farecla G3 then G10 polish and the interior was hoovered, cleaned &shampoo'd, the results are below, sorry they aren't high resolution, my camera is limited (as is it's user!):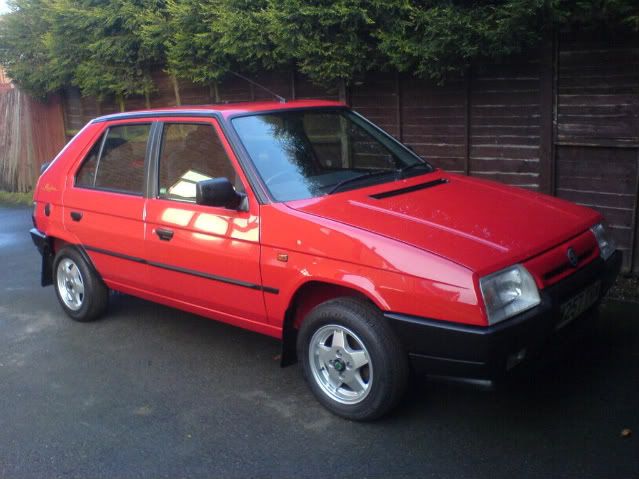 So now the car was looking like it just left the factory, it was time to start cutting it up!
More to come soon...
Paul