Hello,
I have a question for the Prestolite guru's.
I am EV-ing a Kit-bodied Vdub. VERY light (39 Jag SS100).
This motor is available (MTJ4004) and I'm not sure the difference between it and the MTC4001. Here is what I am told: it is 36/48v. 150-175amps continuous. ~8" diameter. ONLY 2 TERMINAL STUDS. Spins clockwise only. Clarke forklift hydro pump motor.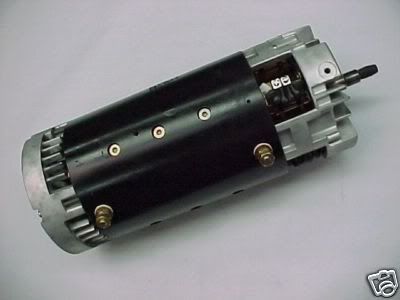 I want to start out running 72v with an Alltrax and then maybe upgrade to 96 later.. Could this get a very light (LFP batts) ev up to 50-60mph? A bit slow acceleration is ok. I am also willing to use 1st gear for starts (keeping clutch?). Am planning to fan cool. I figure 150amps at +-72V would get me into my ballpark top speed (84v and 96v are always right there if I need more oomph..)
Can this motor do it? How is it different than a "traction" motor? Opinions needed.
Thanks.
Ruckus