Discussion Starter
·
#1
·
hello; first post for me on this forum.
I'm American, live in Portugal, have some canal boats in Amsterdam [Netherlands].
As some of you may know, Amsterdam is going emissions free in a few years.
My service / work boat is 12-14 tons, 14 meters long, and 2.2 wide. If I want to keep it, I have to put in electric propulsion for use inside the town.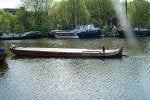 It needs about 6HP to cruise [speed limit is very low]. 20 to stop would be nice but I;ll take what I can get.
This boat has a very low value; and so do I.
I had the opportunity to buy an old 12HP forklift motor from someone's go cart project, and a less old electronic control. It has no reverse contacts.
There are various challenges to overcome; right now I'm focusing on how to reverse.
It's a series wound motor with just 2 terminals; I will open it up and separate the armature from the field, and put in 2 more lugs.
I did this before, long ago, for a starter motor I re-purposed.
Now I find there are no reverse relays rated at 150A 48V continuous.
I found some single pole relays; but I'd need 4 of them, and they're too expensive.
So I'm considering fabricating a switch [I'm good at fabricating].
Has anyone here done this? how is this problem usually tackled?