Re: Planning a road legal Quad bike / ATV Conversion
Finished the electric wiring diagram today. Also made the whole 12V diagram since I'll be renewing that as well. The Chinese 12V system isn't that great.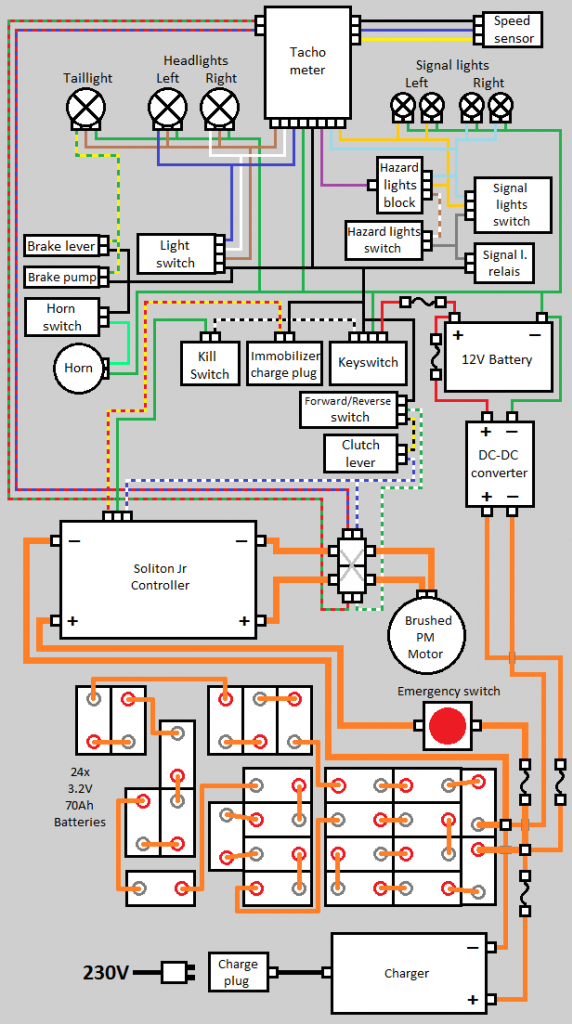 I still have to include the BMS but I'm not sure yet if I'm going with MiniBMS and how to wire it all up if I do.
I'm pretty sure about everything, except the reversing contactors. To get it road approved here there have to be 2 things that you should operate before you can reverse. First will be a forward/reverse switch ofcourse. For the second I chose to use the clutch lever, it already has a switch built in.
Now the thing I'm wondering about with my wiring diagram. If the switch would be set to reverse and the clutch lever isn't pulled, would this be a problem since the motor (either + or -) won't be connected at that point? Or would I even be shorting the controller through the reversing contactors? The reversing contactors I'll be using is the Albright SW202B, not really sure yet how to wire it up since I can't find any diagrams of it.
Also please do let me know if you have any better suggestions for this. I just thought this would be the easiest way, if it'll work that is.