Discussion Starter
·
#1
·
I am getting pretty close to starting on my high voltage system for my truck, and I have been kicking around ideas in my head for a while now. I wanted to get them down on "paper," and also see what people thought of my plan so far. Any and all feedback is welcome.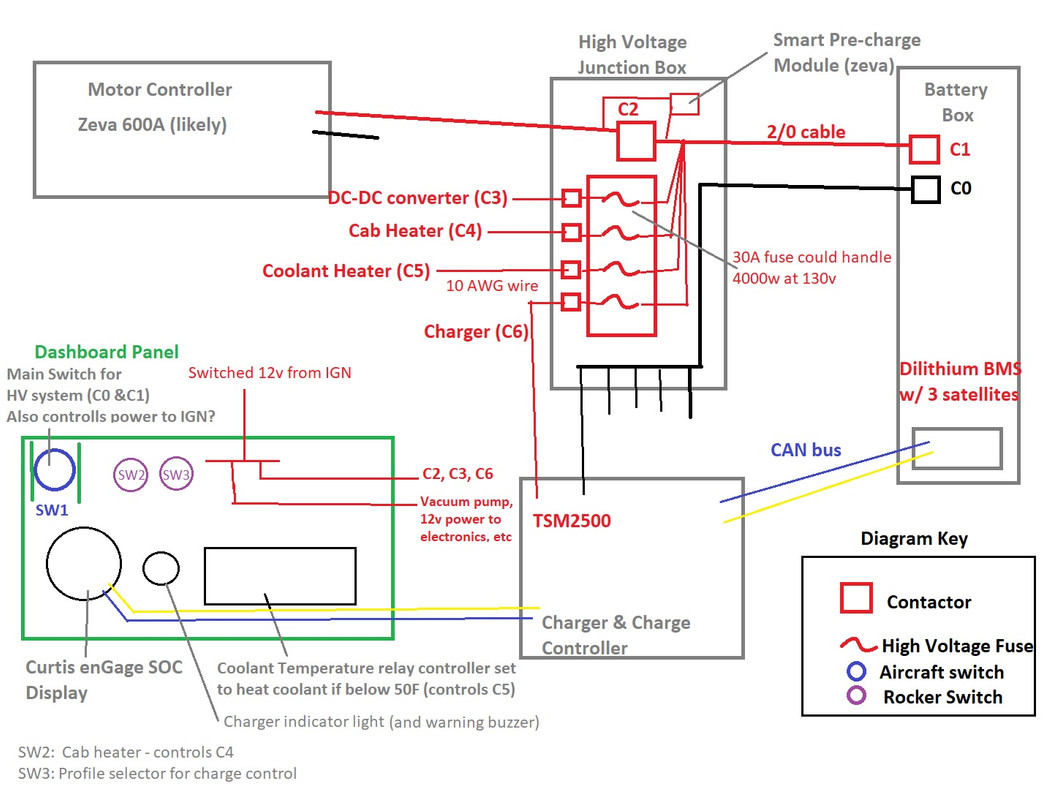 First off, I am going to keep the Tesla-designed battery box, but split the string in half. Each half will have a high voltage fuse (maybe 200A rating?) in the positive side before the main positive contactor (C1). My first question is about C0, the contactor that breaks the negative side of the circuit. This was how the pack was initially wired, and I suspected it was about redundancy and extra safety? It came with the modules, so I am inclined to leave it, as it is no extra cost to me.
The battery box is roomy once I pulled out all of the original brains, and the TSM BMS comes in nice small little units, so they will all go inside the box. The software can monitor parallel strings, I will just need more of their satellites than I had originally thought. The BMS will communicate with the charger over CAN, so I am thinking that I will not really need to use any of the contactors (like C6) to mechanically stop the charging, right? If anyone is using this charger and BMS setup, I would love to hear some input on this topic.
The main power cable will go from the battery box to the HV junction box, where I plan to tap the main feed to the motor to power a smaller fuse block. I have not searched locally for the cable, is it something that a welding supply place would carry? Is 2/0 enough for a modest system? Each circuit will have its own fuse and contactor, which means that there will be a degree of redundancy (if for example one of the main contactors welds itself shut, there should not be high voltage present anywhere outside of the main junction box when the system is shut down).
I think I am going to handle pre-charge with a little control module that Zeva makes - seems like a good way to not have to fuss with it.
On my dashboard then will be a main control panel. To start the car, there will be a switch with those cool red guards, and maybe some sheet metal tabs to make it hard to accidentally shut off your whole car while fumbling to turn on the defroster. So switch 1 will open the positive and negative main contactors, and run power to the ignition switch. My thinking here is that if I want to charge my car at the store, I dont want to have to leave the key in the ignition. When the main switch is on, and the key turned to run, the precharge will activate automatically, the DC-DC converter will come on, and I will get 12v power to my dashboard. The 12v power will fire up the vacuum pump, and start the coolant pump - which will always run. The coolant temperature relay controller will also come on, and monitor the coolant - if it is below 50 degrees it will feed high voltage to a coolant heater until the temp gets up to where I want it. I probably wont have the coolant heater and pump run when I charge without the key, as I will probably never charge it unattended without driving it first. Also, I am not going to be charging it at a very high current, so unless it is very hot out, there will probably not be enough battery heating during charge to worry about.
The motor controller does have CAN functionality, but it seems only to connect to a power usage display. They are fairly expensive, so i might just add a simple clamp-on meter to see how much current I am drawing. I have seen modules that output a signal to the tach, which I sort of like the idea of. We will see.
Anyway, does this all seem like it sort of makes sense? Am I forgetting something obvious?