Discussion Starter
·
#1
·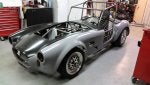 I'd like to present our Tesla powered Race Car project. The car utilizes a custom designed chassis, drivetrain from a Tesla P85, body from a classic 427 Cobra, and a battery pack from a Kia Soul EV.
I am a long time road racer (Sunbeam Tiger, Mustang GT1, Toyota MR2) in the PNW and have been wanting to build an electric race car for a while. However, up until now, the cost of doing this has been prohibitive. The availability of OEM EV components in the salvage yard has changed things.
This car is being collectively built by a group of friends who love the idea of doing something different. We have been working on the project for since December 2015, and are hoping to have the vehicle on track for testing this summer. We call ourselves "EPower Racing"
The motor is from a Model S P85 which is rated at 310 kW peak. However, we have no illusions that we will be able to run the motor at anything close to that for sustained periods due to overheating of the motor/inverter. We are putting in lots of extra cooling but only testing will tell if that helps. All reports we hear of from Tesla Track Days show Model S's going into power limiting within a couple of laps. For longer events, we will probably limit the maximu power to the motor to prevent heat build-up. Although we will have regen capabilities, we will most likely not use it the same reason. (Regen would also upset the brake balance as well which would be undesirable for a race car).
We realized very early on that the massive available torque and an open differential without the benefit of Tesla's traction control system was not a good combination. We worked closely with Jack Rickard/EVTV and Quaife Engineering to produce a custom torque biasing differential. These are now available from EVTV.
We chose the Kia Soul EV as the battery pack donor largely based on DOE test reports which showed it as one of the few OEM packs capable of putting out over 300kW for sustained length of time. It is also one of the lightest packs available. The 30 kw-hr pack (27 usable) only weighs 400 pounds. We purchase what was probably the first Kia Soul EV that was written off, and hauled it across North America! It was fully functional vehicle which allowed us to do some reverse engineering of the CAN bus. We are able to utilize the factory charger for both regular and ChaDeMo charging and obtain cell temperature and voltage data from the BMS. We will be limited in the duration of our runs due to the pack size, but we didn't want to double up on the pack before we even had any real world test data.
The chassis was designed in Solidworks including FEA optimization. The chassis with roll cage weigh about 220 pounds. VR3 engineering took our CAD files and CNC cut and bent all the tubes.
The suspension utilizes C5 Corvette spindles and hubs to keep costs down. However, since we were designing both the frame and A-arms, we were able to dial in exactly the geometry we needed using our SusProg3D suspension analysis program.
Total design weight of the vehicle with driver is 1800 pounds which, even with a torque limited motor, should give us a very good power to weight ratio.
The goal is to have the vehicle on the dyno early spring, then on track for testing in the summer.
https://www.youtube.com/watch?v=Ci8kHAb6iVw