Discussion Starter
·
#1
·
I'm swapping my porsche 944 over to a new 2013 Tesla S base LDU and 85kwh pack. Space in the 944 is a premium, so I'm trying to figure out options for how best to cool the liquid coolant in the system. I'm currently hoping to use small oil coolers behind the side wings of the front bumper for the battery and component loop, while using a separate set of oil coolers in the back for the motor coolant loop.
When I say small, I'm thinking somewhere between this on the small side for the battery loop: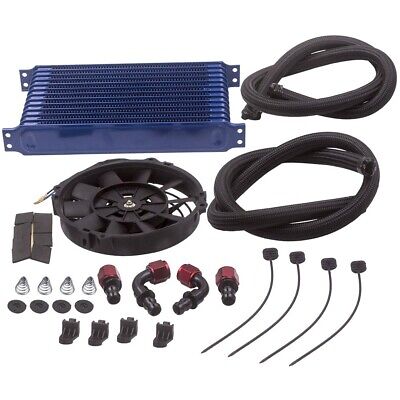 1 x 13 Row Oil Cooler. Inlet Outlet Center Distance of oil cooler: 262mm. Maximum Fan =2900 RPM. Cooling down the Radiator for longer life and higher efficiency. Oil filter fitting Thread = 3/4X16 UNF and M20XP1.5.
And this on the motor loop:

Universal 8-row aluminum oil, transmission, & power steering cooler kit. Significantly improves cooling for engine oil, transmission, and power steering for all engine types. Increases your engine's oil capacity and stabilizes oil pressure by cooling the oil.
With a small electric fan attached.
Am I in the ballpark or am I way off base for the cooling needs of a tesla setup.