Early in the nineteenth century substantial money could be made shipping Tea from China to England. The East India Companies' Monopoly on the trade had recently ended and at the time a high demand (and price) was placed on the first tea of the season. Fast light ships called clippers were developed in order to beat the bigger slower ships back to England with the first fruits of the tea harvest. Competition grew and an annual race developed. The boats were refined and redesigned; every few years a newer faster ship would come and take the line honours. This culminated in the
Great Tea Race of 1866
. These refined sailing boats were the best of the best. Yet within a relatively short period of time these boats had been replaced by the steam boat, and the transition between the two may shed some light on the future of the electric car...
The steamboats disadvantage was range; the inefficient engines required a lot of coal, so much that there was little room for cargo if they were to make the long trip round the tip of Africa. They did offer amazing reliability and manoeuvrability compared to the sail ships but the range problem relegated them to ferrying loads up and down rivers. Ships were developed with both sails and steam-engines; the sails allowed them to traverse across the globe while the steam kicked in for the short range low speed navigation at the ports at either end. Steam ships grew in efficiency and range but still couldn't compete financially with sail until the
Suez canal
opened the floodgates and provided the steamship with the level playing field they needed to take over.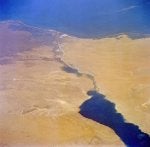 Do you see the parallels yet? I saw a documentary about it and couldn't help seeing the development of the electric car. First there were low range, low tech neighbourhood EVs relegated to the 'rivers' while the open ocean was left to the status quo 'sail ships'. Then as the technology grew hybrids sprung up that could use both forms of propulsion allowing the advantages of electric with the range of the ICE. The improving technology allowed the steamboat to begin to compete until a sudden Suez canal moment. With electric cars we are definitely at the developing technology stage. We've had hybrids and the technology is is getting to the stage where it can just about compete with the ICE. They are awaiting a Suez canal moment to even the playing field.
I'm not sure what the Suez Canal moment is going to be for the electric car- perhaps a new battery chemistry, perhaps an oil crisis, maybe climate change. I'm not saying that steamships prove electric cars will succeed. All I know is, history has a tendency to repeat.
Photo Credits:
http://en.wikipedia.org/
www.navis.gr