Discussion Starter
·
#1
·
Hello all! Like many others on here, I am contemplating splitting an OEM pack in half to get a 144v nominal pack with the same Kwh capacity as in the original vehicle.
My pack is 36kwh, consisting of 12x 26.6v 3.0kwh modules (7s126p) made up of 18650 cells. They were manufactured by Tesla for use in the Mercedes B200E.
Each module has a wiring harness with one pin that connects to the negative terminal, one pin for each succeeding cell group (so climbing in voltage relative to the negative: 3.77v, 7.54v, 11.31v etc up to full module voltage of 26.4v on the last pin). There are also 4 pins for the 2 included thermal probes.
I have ordered mating wiring harnesses and pins, and my plan is to connect each cell group (126 cells) in parallel through a 2A fuse.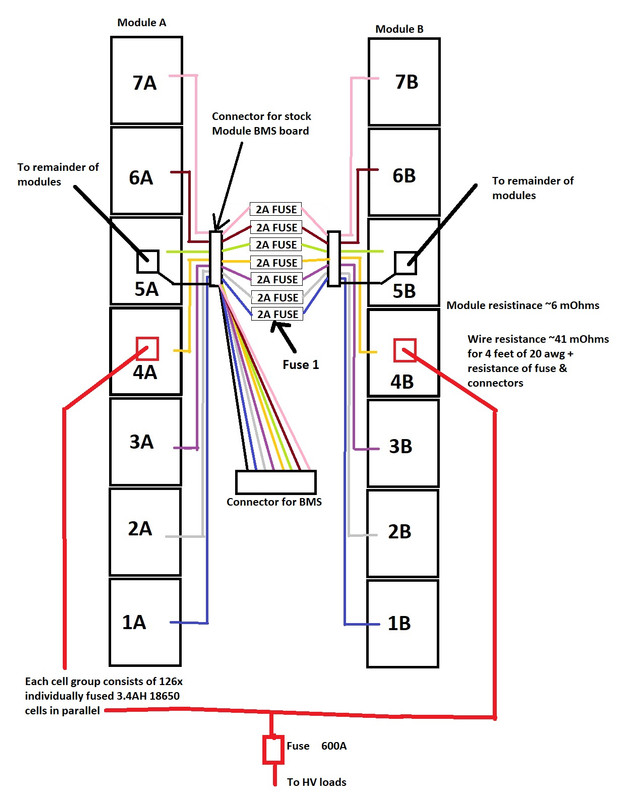 The wiring between modules will be about 4 feet of 20 awg hookup wire, which can easily handle 2 amps of current. Once connected and allowed to balance, the 2 cell groups should behave like a single group now with 252 cells.
Clearly, that small gauge wire is fine to monitor the voltages, and even apply some balancing loads. What I am wondering is what happens when I demand the max current from my batteries? With an 88kw motor and a nearly flat pack at 135v, I would be looking at a current draw of about 650 amps. This is within the specs of the module, which I believe are rated at 400A each or 800A total with them paralleled. So if everything was perfectly balanced, I would not expect any current to try to pass over the fused link. But, if one of the 126 cell groups was weaker than its partner, at high current demand it would sag to a lower voltage. That voltage difference would drive a current, right? How much would one expect a cell to sag at peak load?
4 feet for 20AWG is about 40 mOhms, plus there will probably be some resistance in the plugs and through the fuse, so say 50 mili ohms total. For 2 amps to flow;
V=IR; V = 2 * .050; V = 0.1v
So if one cell group dropped 0.1v lower than its neighbor, 2amps would be driven accross that wire, right?
In and of itself this would not be a dissaster - the fuse would open, the wires would be safe, and the power would still flow through the main connections. However, with a blown fuse the BMS now only sees half the cells - and that already weak cell group that is in most need of monitoring is not being seen by the BMS. I had thought I could wire the BMS to both sides of the fuse, but that way the BMS just becomes a secondary fuse, and I am not sure I want to find out how many amps it is rated for
Option 1:
The 20 awg wire is rated for 11amps (as chassis wiring) so I could bump up to 10 amp fuses, and then this would only be an issue if one cell group dipped .5v below the other. I would then need to manually inspect the fuses periodically to make sure they had not blown.
Option 2:
Implement some sort of system to remotely monitor the fuses and alert me if one fails.
What do people think? I do not really like the thought of having a separate BMS and charger for each string. Then again the cost of an extra BMS and charger is cheaper than burning down my vehicle, and possibly whatever it is parked next to