Discussion Starter
·
#1
·
Hi:
I have a car with (8) 4S3P batteries from an e-golf. The Zivan NG3 charger is set up for lead acid, 156v right now but I want it to work with my LiPo batteries. Seems CC/CV threshold would be 134.4v. I was told this charger can _probably_ do it. I know the charger works: I have hooked it up, watching closely until each pack gets close to the 16.8v and unplugging, but this is not safe or right.
Seems it was made for Optima Yellow Top batteries. I've been told by reliable sources I _should_ be able to adjust to work with my setup but can't be sure.
Case of my NG3:
Adjuster board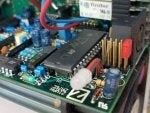 I understand the U pot adjusts voltage and I is current. As I understand adjustment procedure is turn U until red charging light turns to yellow at the set voltage. That sets the CC/CV transition point but please correct me if I am wrong.
Electric Conversions in Sacramento said they can do the job for $75 but I have read mixed things here on their quality, turnaround times and customer service.
You can see this one has the jumper setup instead of the switch. But what position does what?
Thanks in Advance!!